Skyler Curtis
Maintenance Foreman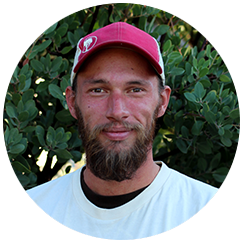 Over a period of ten years working on Gibson Island in Chesapeake Bay, Maryland, Skyler earned many accolades performing a diversity of landscape maintenance positions. The private, gated island designed by the Olmsted Brothers in 1922 features 200+ private homes, a 9-hole golf course, Club House and yacht club.
Through managing the maintenance of most of the private estates on the island, Skyler quickly became supervisor of a work crew maintaining the landscape of the gated entries, the clubhouse, and tennis courts. The six square mile island offered a unique pool of challenges. While there, Skyler became the Road and Erosion Manager with the responsibility of creek and forest drainage operation considerations to maintain the natural drainage of Gibson Island. Through overseeing the island network of roads maintaining ten feet on either side of the roads, Skyler's understanding of the specialized flora filtered deep into the roots of the island.
He has since returned to his home town on the central coast and continues to excel in managerial skills and immense knowledge of the industry.