The skies are clear and it's a beautiful day to Meet the Team! For February, we are shining the spotlight on an amazing member of our Sales team: Christy Dufault! Her warm smile greets you when you first walk into the Madrone office, and her estimating efforts are vital to our design and construction teams. If you called our office lately, you probably had the pleasure of chatting with her. Christy's positivity is contagious, and she is an absolute joy to work with. Thanks for all your hard work, Christy! We asked her some questions about life both inside and outside of Madrone – see what she said below!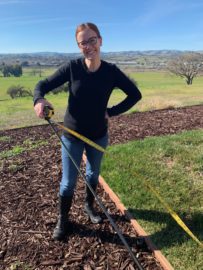 How long have you been working at Madrone? Three years!
What is your favorite thing about working at Madrone? The people I work with and seeing our clients' landscapes transform into beautiful and usable spaces.
What is your favorite plant and why? Any herb that I can successfully grow in my garden and cook with.
If you could go anywhere in the world, where would you go and who would you bring? That's a long list, but for this year I'm hoping to go to Costa Rica with my husband.
What's one of your favorite things to do outside of work? Right now I'm working on growing a food garden and I'm trying to bake more. I recently started experimenting with sourdoughs, which has been a fun and rewarding challenge.