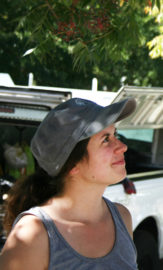 It's a beautiful day to Meet the Team! This month, we are highlighting one of our amazing designers: Jules Welch. When she started working at Madrone, Jules dove right in. Her eye for aesthetic is absolutely remarkable, and her positivity and warm personality are sure to make you smile! She's already helped put some gorgeous projects in the ground, with many more to come. Thanks for sharing your creative visions with us, Jules! See what she said when we asked her some questions about herself and about being part of the team:
How long have you been working at Madrone? Since May of 2018.
What is your favorite thing about working at Madrone? Getting to sit next to Ian, Megan, and Christy every day. I love the design team!
What is your favorite project that you've worked on and why?  Gampe Residence. He was a really easy going client, and it's a small space that emphasized quality over quantity!
What is your favorite, or least favorite, plant and why? Favorite plant: Giant sequoia because the species is as old as dinosaurs and the oldest living specimen is 3200 years old- imagine having a conversation with that tree! Least favorite plant: It's seen a lot… society garlic. It's smelly and sticky. Bleck.
What's one of the things on your bucket list? Design/build a prominent public art piece at a large scale for people to take selfies with!