It's a perfect day to Meet the Team! This March, we are showing some love to our amazing Maintenance Manager: Taryn Via! As head of our Maintenance department, Taryn works incredibly hard to make sure all of our current and prospective maintenance clients are well taken care of, and she does a great job! While she is often out in the field, Taryn's warm and friendly presence is always felt at our office. They say that dogs can sense a person's character, and all the office dogs (both regulars and visitors) flock to her office – that says a lot right there! Get to know more about Taryn below!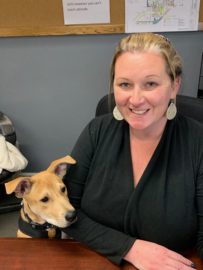 How long have you been working at Madrone? I started at Madrone in May 2018
What is your favorite thing about working at Madrone? I love the fun, family atmosphere
What is your favorite, or least favorite, plant and why? Favorite plant/tree is the Albizia Julibrissin because of the broad, silky leafs and bright flowers. It reminds me of a tropical island.
If you could go anywhere in the world, where would you go and who would you bring? If I could go anywhere it would be Ireland and I would bring my daughters. It's such a blessing to be able to travel and see the world, and I would love to have my kids alongside me during that adventure.
What's one of your favorite things to do outside of work? One of my favorite things to do outside of work is exploring tide pools. There is an indescribable, mysterious peace that the ocean brings!