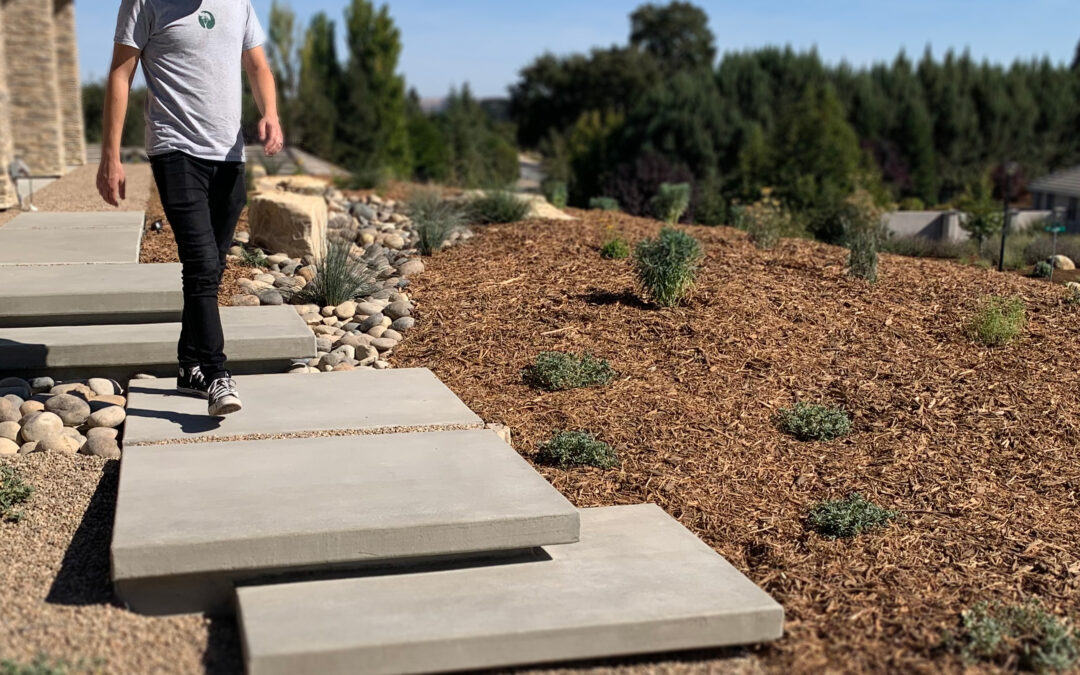 How can we help? Here are answers to some of our most-asked landscape design and construction questions.
Committing to a new landscape or landscape overhaul for your home can be daunting. Especially if you haven't done a remodel project before, there can be a lot of unknowns when taking on this type of home improvement project.
Our landscape designers do their best to guide clients through every step – making it as seamless, painless, and stress-free as possible. Every project is different and has its own unique variables, but the basic questions we are asked most at the beginning of the landscape process are often the same.
Have more questions? Review our design services or contact our landscape architecture office, [email protected] or (805) 466-6263.
We are building a new home and new landscape. When should we bring in the landscape designer?
For new construction projects, you can count on landscaping to be the final step. Planned correctly, landscape installation can begin during the final construction stages. Talk to landscape designers from the get-go so that they can get you on their schedule.
Sometimes landscape designers work concurrently with architects and civil engineers on landscape plans, but your designer will need a finalized site plan with building footprint and finished grading to work from.
TIP: Be sure that your general contractor helps plan for landscaping by adding sleeving underneath any concrete or asphalt for future irrigation pipe.
We are thinking of updating our landscape. How far ahead should we plan?
Landscape construction crews can book out anywhere from 2-6 months in advance, so make sure to get on your builder's radar early. This is one major benefit of working with design/build companies like Madrone.
TIP: The best time to plant in our California Central Coast region is the fall, so that root systems can develop over the winter months.
Will we need permits for our landscape construction?
Check with your local municipality to find out if you need any permits for your landscape. Shade structures that are attached to your home or are built within a certain proximity to your home may need to be permitted. There may be water usage allowances for irrigation, and permits are often required for graywater irrigation systems. Permit filings can take 6+ weeks to be processed once received.
What is the design process and how long does it typically take?
The design process is the time that you, the client, spend with a landscape designer on the conceptual vision of your outdoor space.  Most landscape designs can be completed from start to finish within 3-6 months, while others can take up to a full calendar year.
Every designer or firm has a unique process, but generally will start with visiting your site and asking questions about your needs. The length of time spent on design will vary based on size of project, number of built elements, complexity of site constraints, and the number of changes made during the process. If a design isn't agreed on at the first or second draft, more revisions may be necessary. 
Once the designer has developed an understanding of your project, they will create an overall layout on paper, then gradually start to specify treatments, finishes and building techniques as ideas are approved.
At the end of the process, the owner will receive a complete set of construction documents which will serve as a tool for estimating construction cost and to ultimately guide the landscape installation.
How much does a landscape cost? What are the variables?
The cost of a new installed landscape can vary widely. Just like designing a house, with all things being equal, it will cost more to design a large area than a small one. The price then increases depending on how many built elements you want to include and the types of materials you choose.
Click here for a basic outline of some of defining elements that will ultimately determine the cost of your landscape design and installation.
How much information/direction does a designer need from the client?
The more information you can share up front with your designer, the more likely they will be able to design an incredible landscape that reflects your personal flair while including your desired or required elements. We love hearing about what styles and elements you do and don't like so we know what direction to start with on your design. Browsing Pinterest and Houzz boards can be super helpful for this.
On the flipside, there's also no shame in not knowing what you want—that's what we're here for!
Whether you know exactly what you're looking for or not, the most helpful thing you can do throughout the design process is provide your feedback. We try very hard to customize each design project to the personality and needs of each client, so when we go through our concept and revision meetings, we want to hear what you really think. Honest feedback during our meetings is the best way to help us give you the design you've been dreaming of!
How do we decide what to include in our landscape design?
There are two interconnecting pieces to consider: landscape design area and desired landscape features or amenities. For instance, if you are looking to include a veggie garden, new patio, pergola, hot tub, flower garden, and meandering paths, you're going to need a relatively extensive landscape design area.
Often in design, we encourage creating a landscape master plan. If it makes most sense financially to proceed with construction in steps, a sitewide design will ensure a functional and cohesive final design and finished project. Even if you envision installing the veggie beds at a later phase, it makes sense to design their location, orientation, and aesthetic or "design language" from the start.
As far as design features go, it may help to draw up a list of your desired elements before an initial consultation. You can discuss these items with the designer and see if any other ideas arise out of the design process. Browsing inspiration online on places such as Houzz or Pinterest, flipping through design books and magazines, or taking a walk around your neighborhood are also great ways to pinpoint your list of features and amenities.
How do we determine what plants to include in our landscape?
To determine the plants for your landscape, also known as the plant palette, your designer will ask questions of style—Mediterranean, modern, xeric, Spanish, something else. During our design process, you will have opportunity to discuss planting selections, ask questions, and provide feedback.
Our designers are familiar with plant species that work well in the Central Coast, from Arroyo Grande through Paso Robles to Grover Beach through Cayucos and beyond. Each area has its own set of microclimates—unique characteristics including sun patterns, wind, humidity, shade, and more, that determine a plant's suitability. Regardless of where the project is within our region, we strive to propose appropriate plantings that will use minimal water throughout the year, thereby promoting water conservation.
Don't have a green thumb? That's not a problem! Let our designers know, and they will be sure to propose the most low-maintenance options.
At what point will we know how much our desired landscape costs?
Our design process includes using cost information as a tool to help guide design decisions. Once we've established our initial concept plan, our next step is to revise and refine the landscape plan and provide the client with budgetary installation prices. This estimate includes individual line item descriptions, quantities, and costs for every element of the project. This means you can see clearly where every dollar is being spent, and where there are opportunities to substitute materials or methods with less expensive alternatives without sacrificing functionality.