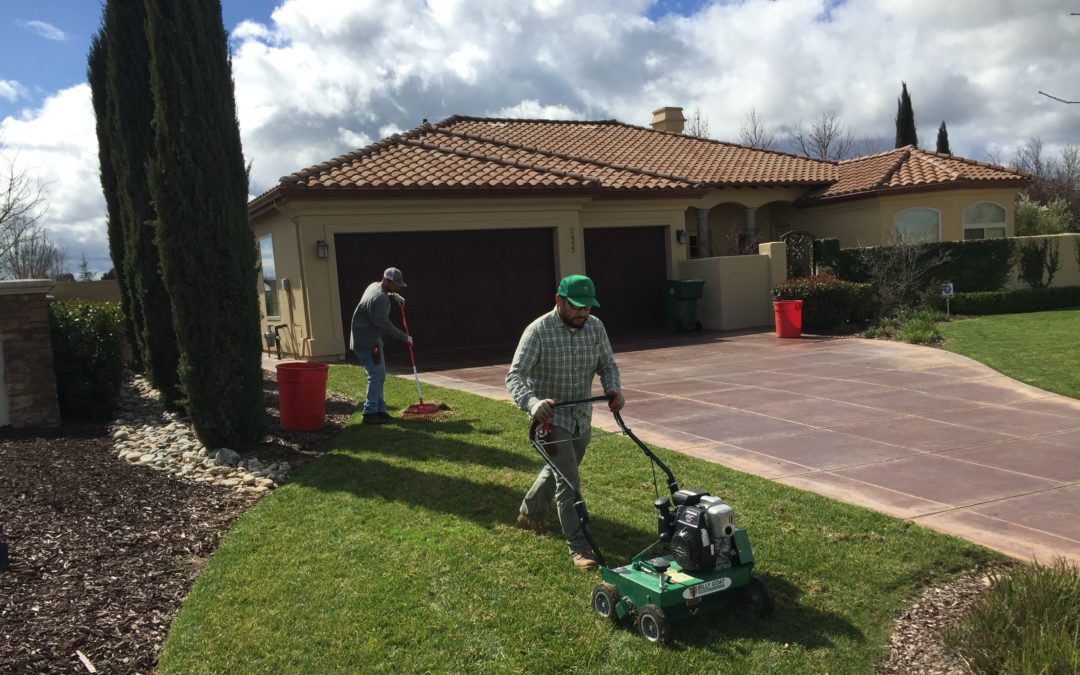 Top tips for selecting a landscape maintenance team
From weekly or seasonal maintenance to event preparation or landscape enhancements, here are the top questions to ask to ensure you hire a licensed landscape maintenance team who will meet your needs.
1. How long have you been in business? What kind of insurance and licensing do you have?
A company that has been in business ten years or more is likely a reliable, trustworthy contractor. Whether you are a homeowner who needs weekly maintenance or a commercial property owner who needs pest control, check the company's portfolio to see whether they have expertise on projects like yours.
Madrone Landscape has been in business for over 40 years. We offer weekly gardening services for residential clients in North San Luis Obispo County and estate maintenance for the broader San Luis Obispo County, Northern Santa Barbara County, and Southern Monterey County. We also offer high quality commercial, municipal, and HOA maintenance services for all of San Luis Obispo County.
For additional consideration, ensure that your landscaping company has workers compensation insurance, general liability insurance, bonded workers, and appropriate state licensing. For weed, pest, and disease control, your maintenance contractor will need to be spray certified.
Madrone Landscape has workers compensation insurance and general liability insurance. Our landscape maintenance crews are bonded, and we maintain a California state landscape contractor license.
2. Do you have specialists on staff? What services do you offer?
Professional landscaping firms will employ experts with degrees in landscape architecture and horticulture. They should have expertise in landscape irrigation, as well as a thorough knowledge of the type of plants you have growing in your landscape design.
Homeowners, commercial property owners, and HOAs all require different services for different properties. Ensure the company you hire provides the services you require. Traditionally, maintenance projects may include mowing and editing, irrigation repair, fertilizing, dead-heading, and mulching. Larger projects may need specialized maintenance at different intervals throughout the year. Consider whether you need seasonal maintenance, event preparation, and/or regular landscape enhancement.
3. How do your maintenance crews practice sustainability? Do you offer alternatives to chemicals?
If sustainability is important to you, be sure to ask about alternatives to fertilizer and chemicals. Companies at the forefront of landscaping will employ methods such as compost tea fertilizer, integrated pest management, and organic fertilizers, ensuring your yard is a safe and healthy place for your family.
At Madrone Landscape, we are known for sustainable practices. We focus on plant health and the effective use of water. Our Healthy Gardens program introduces organic methods to fertilizer and weed, pest, and disease control.
4. Can you provide us with an estimate? How do you communicate with clients?
A professional landscape contractor will provide you an estimate tailored to your individual needs. After visiting your project and listening to your wants and requirements, they will ask you questions to determine your exact needs. 
Once you've accepted your estimate, your contract ensures you know what to expect on each visit, from weekly maintenance to seasonal maintenance, plant replacement, and irrigation repairs.
At Madrone Landscape, each contract is different—just like each project. Madrone Landscape provides a customized written estimate for each project. Once we've discussed your estimate, we put together a landscape maintenance contract specifically for you. Our Maintenance Manager, Coner Boaen, is the one point of contact for our maintenance clients.
Check with your landscape maintenance contractor to see whether they will have an account manager assigned to you. Will they call you to schedule appointments, or simply send notices in your invoice?
5. Will you provide references?
In addition to checking Yelp to see how the company ranks, ask for references, including addresses. Check the properties to see if they are maintained at the level you expect for your own property, whether residential or commercial. Madrone Landscape recently was awarded "Top-rated Local" for ranking in the top-five landscape companies in the state for customer satisfaction.
We are happy to provide a list of references for you to call and testimonials for your review!
Do you have additional questions? Call us at the office and ask for Coner Boaen, Maintenance Manager at (805) 466-6263.