"Born to Plant" has become a mantra for us here at Madrone.  The original idea came as a response to a similar slogan drawn on a soldier's helmet in the film, Full Metal Jacket.  But rather than the dark irony intended in the film, for us it's a nod to a deep commitment to our craft, as a way of expressing ourselves and our values through our work.
Andy Lipkis, founder of Tree People(a Los Angeles-based environmental nonprofit organization) states in his landmark book, The Simple Act of Planting a Tree,  it's "about community—establishing it, tapping into it, and using it to nurture responsibility for our global environment."  That same simple act is also indisputably a positive one, in the face of an alarmingly changing climate.  The more trees we plant(*in the right place of course!), the better.  Simply….Born to Plant!
Have we "Found Home"?
In the early 1990s, Central Coast-based author and Native Sons Nursery owner, David Fross wrote a brilliant essay titled, "Finding Home".  His take on how we can be truly at home here in California, after inadvertantly altering and at times, essentially destroying so much of our vital, natural systems, includes the following:  "….this legacy of conquest need not define our relationship with this place.  We can find a greater wisdom to guide our actions toward our landscapes, and redefine how we will live there."  "…we too can reaffirm our commitment to our home by weaving our native flora firmly into the fabric of our community.  We can rediscover and renew the California landscape with our gardens and open ourselves to a fuller meaning of community and home."  Amen, Dave.
Finally, one might say that "Plants Matter."  Throughout the Central California Coast, with our thirsty summers and increasingly severe droughts, this is especially true.  So for 'plant nerds' such as ourselves, we love to invest our inspiration into our designs and projects, knowing that while we're working with clients to create the absolute best and beautiful solutions, we're also contributing positively to the life and character of one of the most beautiful regions on earth.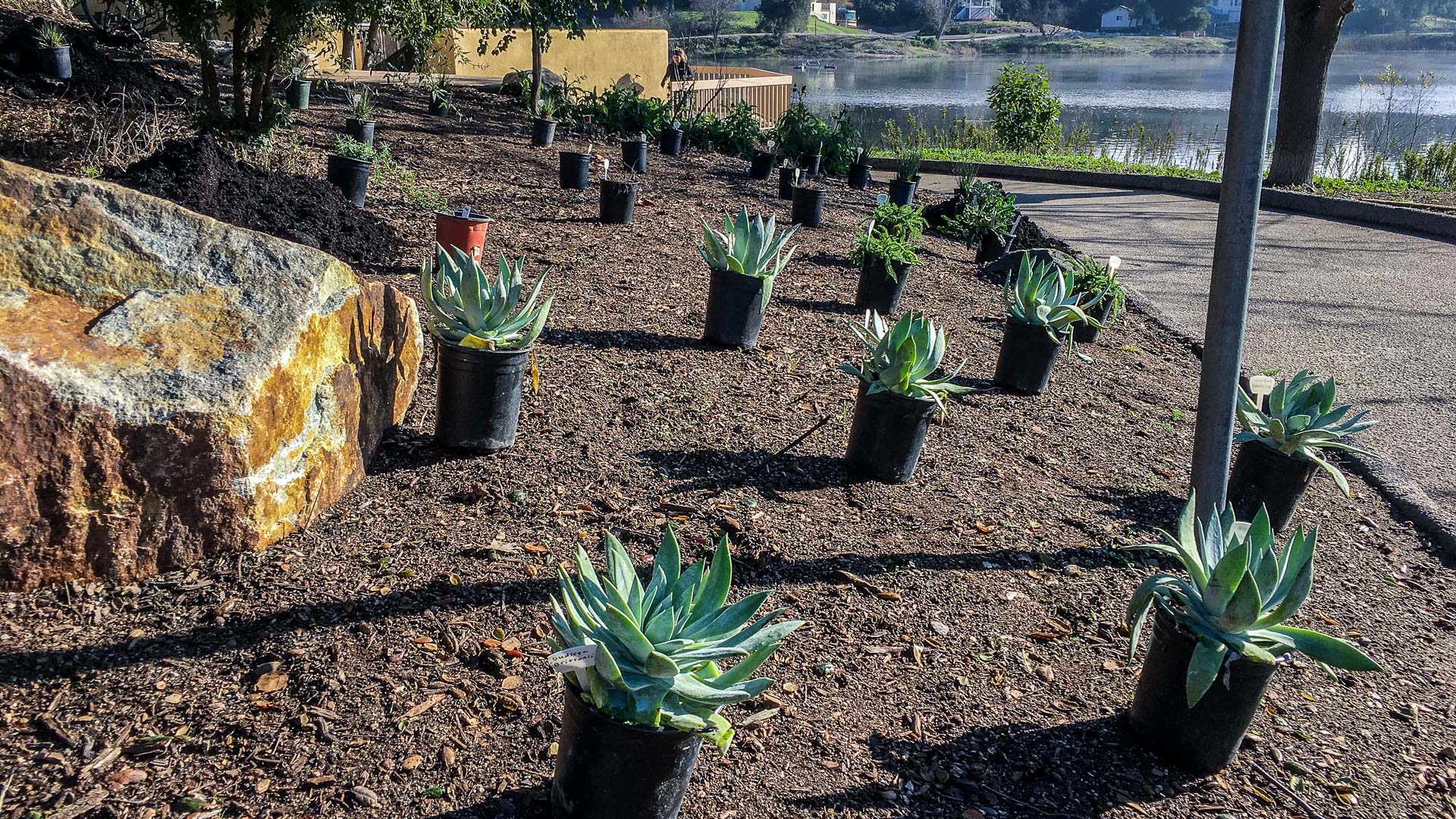 Native California Plants
Native California Plants have always been important to our work at Madrone.  From our founding in 1977, we recognized the importance of biological and regional integrity.  Beyond the recognition given to the beauty of the region, and the aesthetic consistency and reinforcement of the Central Coast's natural beauty, native plant use performs valuable functions, supporting wildlife and re-connecting ecological systems threatened by fragmentation.  Natives, when properly used, can provide excellent performance while thriving with less care required, including water use, fertilizers and pest control for a more sustainable garden.
Our company's namesake, the Madrone is a native California tree, and after 40 years, continues to inspire our company's approach to landscaping.
Here are some great resources for a variety of plant needs:
California Native Plant Society http://www.cnps.org/cnps/about/ 
Cal Flora http://calflora.org/
Las Pilitas Nursery http://www.laspilitas.com/plants/plants.htm
California Gardens.com http://www.californiagardens.com/Lists/native.htm 
San Marcos Growers : https://www.smgrowers.com/
California Native Plants for the Garden by Carol Bornstein, David Fross, Bart O'Brien
Designing California Native Gardens: The Plant Community Approach to Artful, Ecological Gardens 
By Glenn Keator, Alrie Middlebrook
California Native Gardening: A Month-by-Month Guide By Helen Popper
Edible Plants
Edible Plants have obvious benefits in today's landscapes.  If there is ever a plant earning its keep, it's one that yields food!   Eating fresh food that you have grown is another of those simple acts that have meaning far beyond the calories and flavors.  Whether incorporated in a permaculture design, or in areas set aside exclusively for food production, such as raised beds or orchards, it pays to include food-bearing  plants in your landscape.
http://www.garden.org/ediblelandscaping/?page=resources
Edible Landscaping http://www.rosalindcreasy.com/edible-landscaping-basics/
Book:  Edible Landscaping by Rosalind Creasy
Mediterranean Plants
Mediterranean Plants are any plants that are adaptable to climates like those found on the Central Coast of California.  Mediterranean climates, are major climate types of the Köppen classification characterized by hot, dry summers and cool, wet winters and located between about 30° and 45° latitude north and south of the Equator and on the western sides of the continents. Mediterranean climates include Mediterranean Europe, the Western Cape of Southern Africa, Central Chile in South America, Southern Australia and California.  Using plants from Mediterranean climates exponentially increases the creative combinations of plants which are relatively compatible with Central Coast localities.
San Luis Obispo Botanical Garden http://slobg.org/
Leaning Pine Arboretum http://www.leaningpinearboretum.calpoly.edu/
Monrovia https://www.monrovia.com/plant-catalog/search/
Landscape Plants for California Gardens  by Bob Perry
Sunset's 365 Days of Color: Keeping Your Garden in Bloom
Sunset Western Garden Book: The Ultimate Gardening Guide