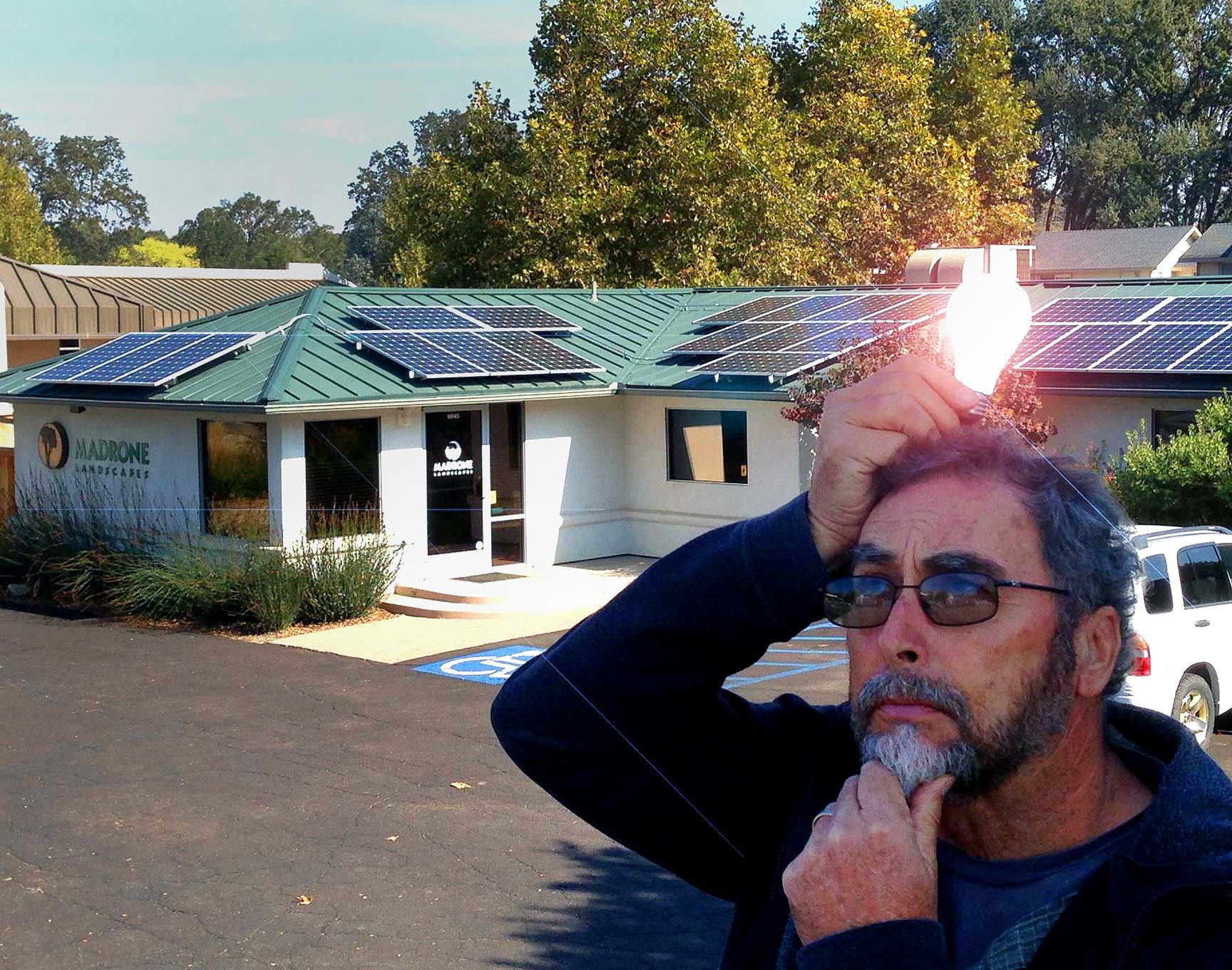 "A Bright Idea?"
Stewardship is doing business in ways consistent with our environmental values. Toward that end, we invested in a solar system which completely powers our office building, and charges our electric sales car. It also charges our Electric gardening equipment, which is being used and tested to eventually replace polluting, noisy gas-powered equipment.
How does this relate to tangible solutions?
We reduce water use with turf reduction, efficient irrigation systems, and drought-tolerant plants.
We reduce maintenance needs with appropriate plants for site conditions, an emphasis on materials and plants that require little maintenance. We help build and invigorate soil to encourage a flourishing diverse ecosystem underground, to enhance plant health at the surface.
We use local products that both blend with the natural environment and reduce trucking costs to the environment.
We encourage and incorporate fruit and vegetable production to reduce food transportation costs, improve the health of the users, and connect the users with the natural environment and their food source.
We reduce water runoff and pollution with passive drainage solutions that maximize the use of the water resources onsite.
We reduce waste and costs by looking to keep, use, and recycle all viable resources found on site, whether it is plants, rocks, or other building products.
We strongly believe that being a steward of society is just as important as that of an environment. Similarly, a healthy society will flourish, coexist and proliferate life. We aspire to achieve these goals by treating all clients, vendors, and employees with the utmost respect and conscious effort to improve well-being. We extend this to community outreach, donations, and volunteering to help improve the quality of other's lives. Finally, we rely on our core values to make sure we are making responsible design decisions for the surrounding community, not just for the client with whom we work. We strive to create healthy habitats for humans to exist.
What does this mean to those we work with?
The effects of our actions toward others do not stop at the recipient. These positive or negative influences spin off into society, the symbolic pool which we all live in, and change the PH of our communal environment for better or for worse. We encourage our team to consciously weigh the way we interact with our clients, colleagues, and team members. Particularly in times of distress or confrontation, it is easy to get lost in the situation and treat others unfairly. We give all the benefit of the doubt to prove their good intentions and provide every opportunity we can to foster this activity, completely unaffiliated with the bottom line. We will make sure that clients are satisfied with our work, and aspire to increase the respect for contractors and designers, so that others will be treated well after our interaction. We treat all of our team with the highest regard to their well-being and that of their families. We do not easily turn our back on people, and we strive to build employees to be stronger, healthier individuals even if they must leave our organization. These are our family, friends and neighbors, and their health will only strengthen our community.
Madrone feels the obligation to enhance the lives of others through support and education. While we do not possess the answers to all problems, we feel that connecting people to the soil, and the food and oxygen it creates improves the quality of life. Every experience is one that can be learned from, so we aspire to learn and teach in the community. Whether we are donating food, educating the public, or volunteering to build a garden for a just cause, we seek to be stewards of our social environment.
As stewards, we design projects to last, and this is always part of the conversation. We sustain a project for its due course, guide it to a healthy succession, and enhance its progression alongside the inevitability of change.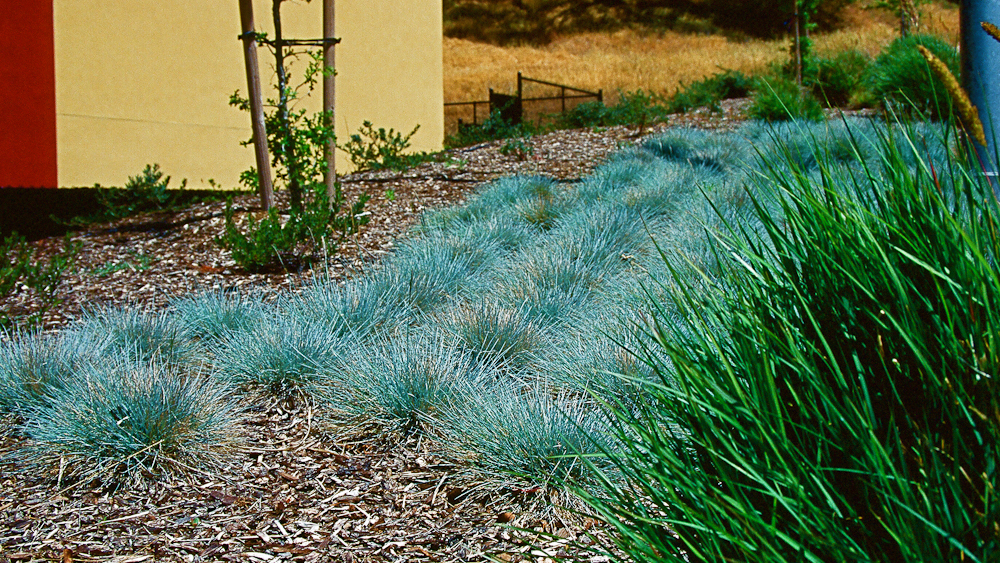 How can you make a landscape last?
We achieve this by paying attention to the users, the intended functions, the longevity of materials, and the succession of plants.
We pay attention to who is going to use the site, with the understanding that those who utilize and grow to love a landscape will help ensure its continued use and required maintenance. We know that every landscape has a function. If its only function is to be looked at, it better be stunning. If the landscape is intended for large parties, it better be built strong, and have ample room for circulation and gathering, with site amenities to boot. If it is a tranquil respite from the urban surroundings, it needs beauty, wildlife habitat, comfortable nestled spaces, and privacy.
We use heritage trees and stone to ensure the longevity of material and longevity of style. If we are building with a material that will not last as long, we make sure to let the client know what to expect and compare these products with longer lasting products to explore long-term cost analysis.
We look at the plants and envision their growth in 1 year, 5 years, and 100 years. While we use little annual color, we know that some perennials will last only a few years, while others will last 10 to 20 years. We know trees and large shrubs will likely outlive us and we look ahead to their growth habits and envision how the landscape will change and mature. The bottom line is that a landscape will only last as long as its allocated maintenance allows, and should be planned accordingly.