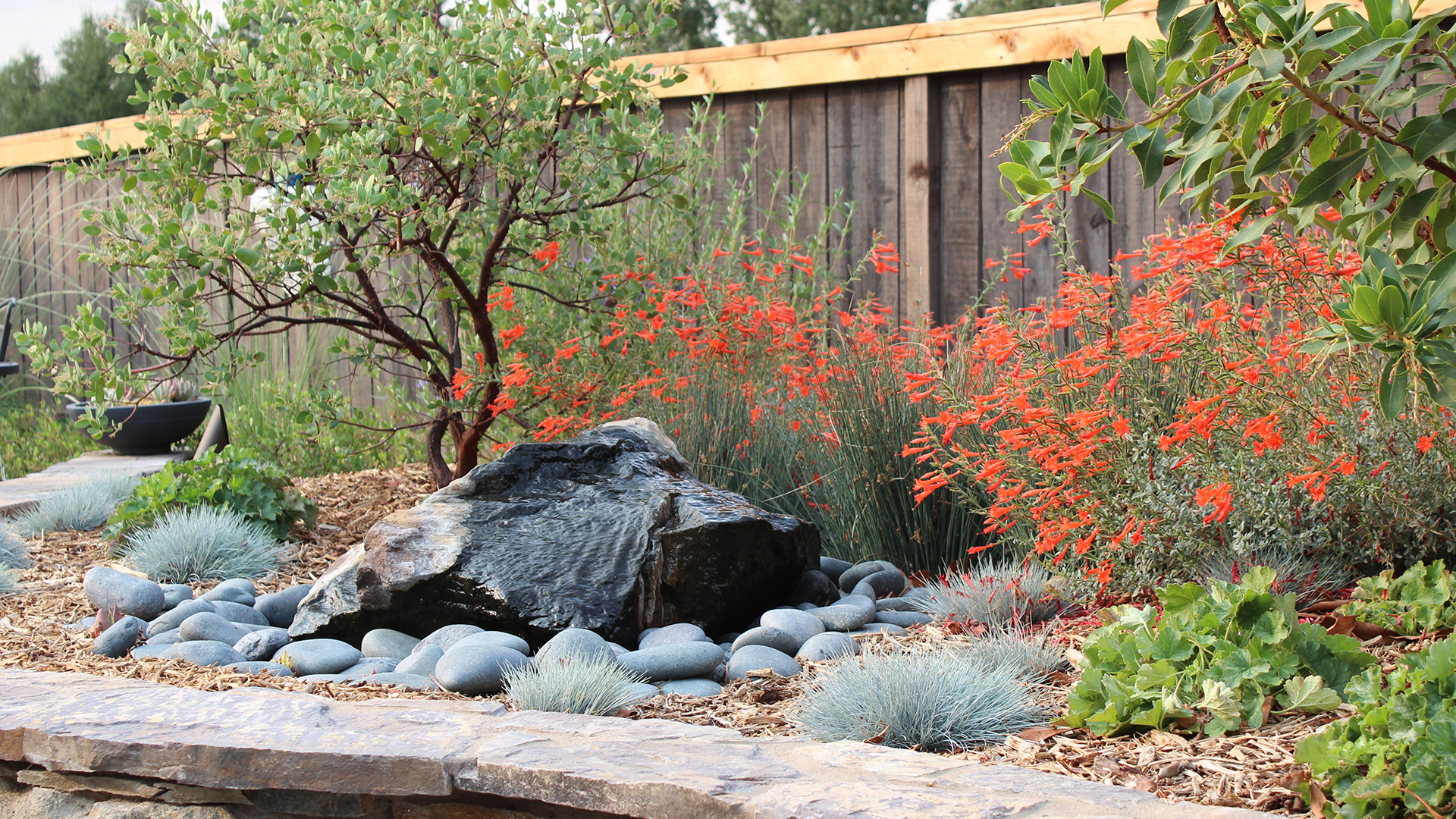 California Native Oasis | Atascadero, CA
Situated on a corner near the entrance to a planned development in Atascadero, homeowners sought both privacy and a multi-use entertainment space planted with a low-maintenance, native palette. Live-ability was their primary focus, seeking sensible choices for a landscape that would function well for their family and lifestyle. The finished project was formed from a strong vision and a willingness to wait for the most ideal amenities to be developed, resulting in a balanced and precise personal oasis.
A mortarless retaining wall, wide sidewalk of permeable pavers, and low stucco wall shield an inviting yet private front patio from the street. A local boulder with a core-drilled center serves as a vanishing fountain flanked by two benches made from recycled cypress logs. Two of the seven varieties of manzanita on the property grace the porch: the Manzanita morroensis, native to Morro Bay, and the Dr. Hurd, a multi-branched tree with glossy light green leaves.
Past a south facing raised vegetable bed and fruit trees, a wide path winds through tall deer grass on its way to the backyard, pool, and patio. A curving, elevated bed of stacking stone along one side of the pool decking is wide enough to sit on, full of native plants and another vanishing fountain.
An outdoor poolside kitchen provides a focal point for the backyard. Rough-sawn, horizontal siding covers the existing fence and continues along the back of the structure as a sliding barn door to conceal pool equipment. Slender veldt grass, Carpenteria Bush Anemone, carex, and potted succulents hug the various stone surface treatments. The cypress bar is recycled from the same log as the front benches.
Landscape Design, Construction, and Maintenance: Madrone Landscape