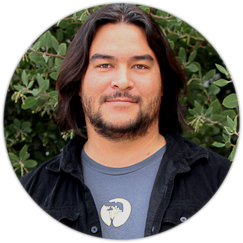 Daniel Mazawa
"I believe that a Landscape Contractor can be honest and straightforward, a Landscape Designer can be humble and solve problems, and the world can be made a better place by creating beautiful spaces incorporating natural forms and thoughtful planning."
As General Manager, Daniel Mazawa oversees the diverse workflow of Madrone Landscapes.  He has a Bachelor's degree in Landscape Architecture (Cal Poly S.L.O.), a diverse horticultural and construction background, and has been mentored in business management and entrepreneurialism.
Madrone Landscapes' greatest resource is its phenomenal team of smart, ambitious people.  Daniel's role is focused on fostering and building a cohesive team of industry innovators, and directing the company's path.  Madrone's mission is to cultivate natural beauty, which translates to the cultivation of the natural strengths of its people, with the goal of encouraging personal growth for all employees.  Always willing to listen and seeking to improve the world around him, Daniel will do what it takes to provide opportunities without compromising core values of integrity, service, quality, stewardship, innovation, and teamwork.  The amazing team of people affords Madrone the opportunity to proliferate the healthy cultivation of the human environment.
Madrone Landscapes will continue to beautify the Central Coast and expand its role as an innovative steward of the land.