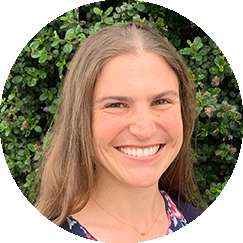 Jill Bleher
Jill's passion for landscape design is rooted in a love for artistry, plants, and people. From an early age, she has enjoyed drawing and playing in the dirt. Today, what she enjoys most about landscape design is the fact that landscapes are alive and evolving over time, just like people. Ultimately, Jill enjoys building relationships with people and sharing her passion for landscape design and growing gardens.
Jill's vision is to improve the lives of people through landscapes, whether they are privately or publicly enjoyed. Designing landscapes means thinking ahead and envisioning the potential for a space to be transformed over time, since plants take time to grow! It also means being aware of the present function of a space and the needs of those who use it. Jill enjoys that process of working with clients to convert their dreams into gardens they can enjoy for a long time.
Jill is also an avid vegetable gardener and a collector of succulents at her tiny home patio and community garden plot. She believes that everyone can develop a green thumb with the right tools and encouragement. She loves introducing others to gardening! Jill's other hobbies include knitting, playing cello, and hanging with her husband, cat, and bearded dragon.