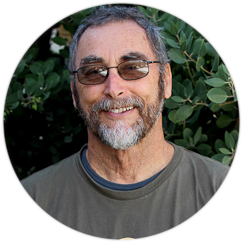 Rick Mathews
Profile of Rick Mathews by Harold Higgins, Publisher of The Tribune. Published January 16, 2001
Saving the World – One Tree, One Child at a Time
The Saturday morning host of KCBX public radio's Freedom Jazz Dance is a 1960's surfer dude who felt he could save the world.
Thirty years older and wiser than when he was shredding the waves in San Diego, Rick Mathews in many ways has become an icon of the reckless surf boys of the 1960's who have grown up to take on responsibilities for their families and small businesses while also channeling their energy into community works.
Social good was an unarguable mission for Mathews. His father, who was a supervisor in their Pomona Congregational Church made that familial imprint.
So he was studying anthropology and sociology at San Diego State University with the intent of going into teaching. But surfing and his own self-acknowledged immaturity took him off course. Along the pathway over 30 years, he has changed locations, changed careers and changed aspirations but kept his high school sweetheart, Valene.
Mathews owns Madrone Landscapes in Atascadero, a company that specializes in residential and commercial landscaping that promotes the incorporation of native California plants in its designs. His avocation is promoting the health of Atascadero's urban forest and also the healthy community environment of its children.
The name of his company, Madrone, is the common name of a native evergreen tree that you can see on the Cuesta Grade. He felt the sound and the image of the name evoked the flora of California. With his teaching degree unfinished but Valene on his arm, they settled in Santa Barbara where Mathews became a landscape laborer. He met a guy who was landscaping with native plants, an experience opened up the promise for Mathews that landscaping could serve an environmental purpose.
That inspired him to attend the ornamental horticulture program at Cal Poly. And busy with a business and raising a family, he kept chipping away at his bachelor's degree, which he got from Chapman University after many months of night school at Vandenberg Air Force Base.
Over the years in Atascadero as his children, Cole and Lissa, have moved through the school system, the family has become deeply ingrained in their community. Mathews has been heavily involved with the Atascadero Native Tree Association, youth basketball, youth skate park, the Atascadero Youth Task Force and City Parks and Recreation Commission.
In 1999 he received a Community Service Award from the California Parks and Recreation Society on behalf of the city of Atascadero. Mathews is still trying to save the world, only now it is one tree and one child at a time. And along the way there is a whole lot of jazz.
Other Biographical Information for Rick Mathews:
B.A. Sociology, Chapman University
California Contractors license #441779
Horticulturist, Arborist, Urban Forester
Certified Irrigation Auditor
Environmental Education lecturer / facilitator
Atascadero Parks and Recreation Commissioner 1998-2004
Atascadero Recreation Center Committee Board of Directors, past president
Atascadero Native Tree Association, past president
Atascadero Youth Task Force
Community Service Award 2001
California ReLeaf Network Board of Directors
Atascadero Chamber of Commerce Community Service Award 1996
California Parks and Recreation Society Community Service Award 1999
San Luis Obispo County Parks and Recreation Commissioner, Chair 2009, 2012
SLO Greenbuild Board of Directors
Radio Producer/Announcer, host of  "Freedom Jazz Dance"-KCBX fm 90.1 San Luis Obispo (NPR affiliate)