Top Tips for Outdoor Spaces, from Intimate to Crowd-Pleasing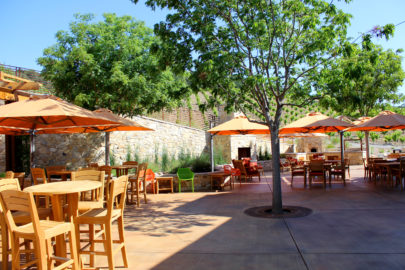 Imagine RELAXING! Finally… after a week that took few prisoners. Here on the Central Coast, we like to turn to our outdoor gathering spaces to enjoy our time and recharge our batteries. It may be at home, or it may be at a winery, restaurant or bar. So, if you're planning to improve your hospitality business or your home, here are some tips for patio landscaping:
Form Follows Function – Your outdoor gathering space needs to be beautiful AND It needs to serve its purpose. Whether used for cooking, eating, drinking, entertainment, or warming by the firepit, make sure it works; and then make sure it feels good to be there.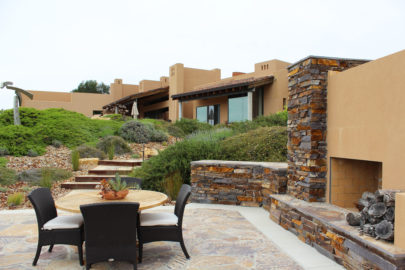 It's a Material(s) World – When considering patio hardscape design, the materials need to be appropriate to complement the space, as well as fitting your style, priorities, and budget. Materials choices also determine the cost of energy over time. Obviously, these energy costs can and should be kept as low as possible. Energy savings can be greatly affected by good Site Design, careful planning of machinery use, and wise choices of the landscape materials themselves, and their embodied energy (including manufacture, extraction, shipping and life-cycle energy costing).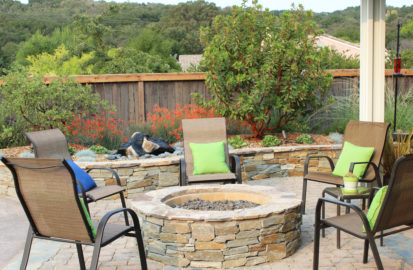 So Imagine Relaxing… leaning back in a comfortable patio chair, warming next to the fire pit, feet up, a glass of wine close by, enjoying the last rays of the sunset. It's hard to beat the feeling of enjoying your outdoor environment when it suits your needs and lifestyle.
Or….visit a winery or outdoor event that has captured the essence of what makes THAT place so special. Successful patio hardscape design can do a lot to add to your relaxation and recharging, contentment and inspiration.
If we can help, let us know: 805-466-6263. MadroneLandscapes.com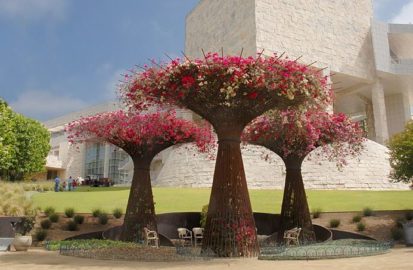 Oh, wait – That's the Getty. Never mind!