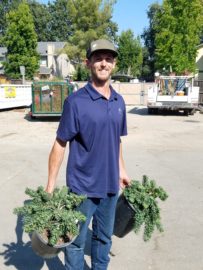 To continue off our "Meet the Team" segment, we would like to introduce a new-ish member of our team: Coner Boaen. Coner started out as our Service Technician, but is currently running his own crew as a Project Manager for our construction team. He hit the ground running and is doing an awesome job with our clients – thanks for all you do, Coner! See what he said when we asked him some questions about himself and the job:

How long have you been working at Madrone? 5 Months!
What is your favorite thing about working at Madrone? Having the freedom to be a Landscaper!
What is your favorite project that you've worked on and why? Paso Robles Residence – Got Daniel out of his flip flops and into some boots and helped me get a rock wall started!
What is your favorite, or least favorite, plant and why? Favorite, that's hard. I am really liking the Silk Trees right now! Least favorite, anything with thorns like agave or barberry.
If you could go anywhere in the world, where would you go and who would you bring? I have the aloha spirit in my heart. All I need is my girls and a white sandy beach in Hawaii!