For November we are highlighting landscape designer Jill Bleher, who has been with Madrone for nine glorious months. She says one of her favorite things about working at Madrone is the positive team energy. We feel the same way about you, Jill – we're so glad you joined our team!
What is your favorite thing about working at Madrone?
What I enjoy most about working at Madrone is the positive team energy and the fact that every day I get to work on interesting projects.
I really appreciate being able to bounce ideas off of my teammates. The feedback I receive from my managers and peers helps me to delve deeper into my designs and develop my ideas. Sometimes you just need someone else to look at a design in progress and question you or offer their opinion in order to arrive at the best possible solution for a space. This creative collaboration is my favorite thing about working at Madrone.
What is your favorite project that you've worked on and why?
I have enjoyed so many things about so many different projects, but my favorite projects are those that integrate old with new. I like the challenge of tying together existing features – especially those with history – with new aspects of a design, knitting it all together into a cohesive design.
One such project is a backyard in SLO. The property slopes steeply down to a creek and my first view of the site was just a sea of nasturtiums and weeds beneath ancient Sycamore trees. Cleanup of the site revealed several stone and mortar walls that spoke of the history of the place. These walls are featured in the new landscape, along with a new wall built to match the same rustic style. The design also blends in contemporary features such as poured in place concrete pavers of varying sizes and cable railing on the upper wood deck.
Ultimately this project reminded me of the tale of the Secret Garden. Old can be made refreshed and revitalized with love and attention to detail! What sealed this job as a favorite for me was getting to know the owners through the process of design and installation, and seeing their joy as it developed. One vision that sticks with me is of the family's young daughter sitting on a stepping stone, feeling the plants and looking quite happy.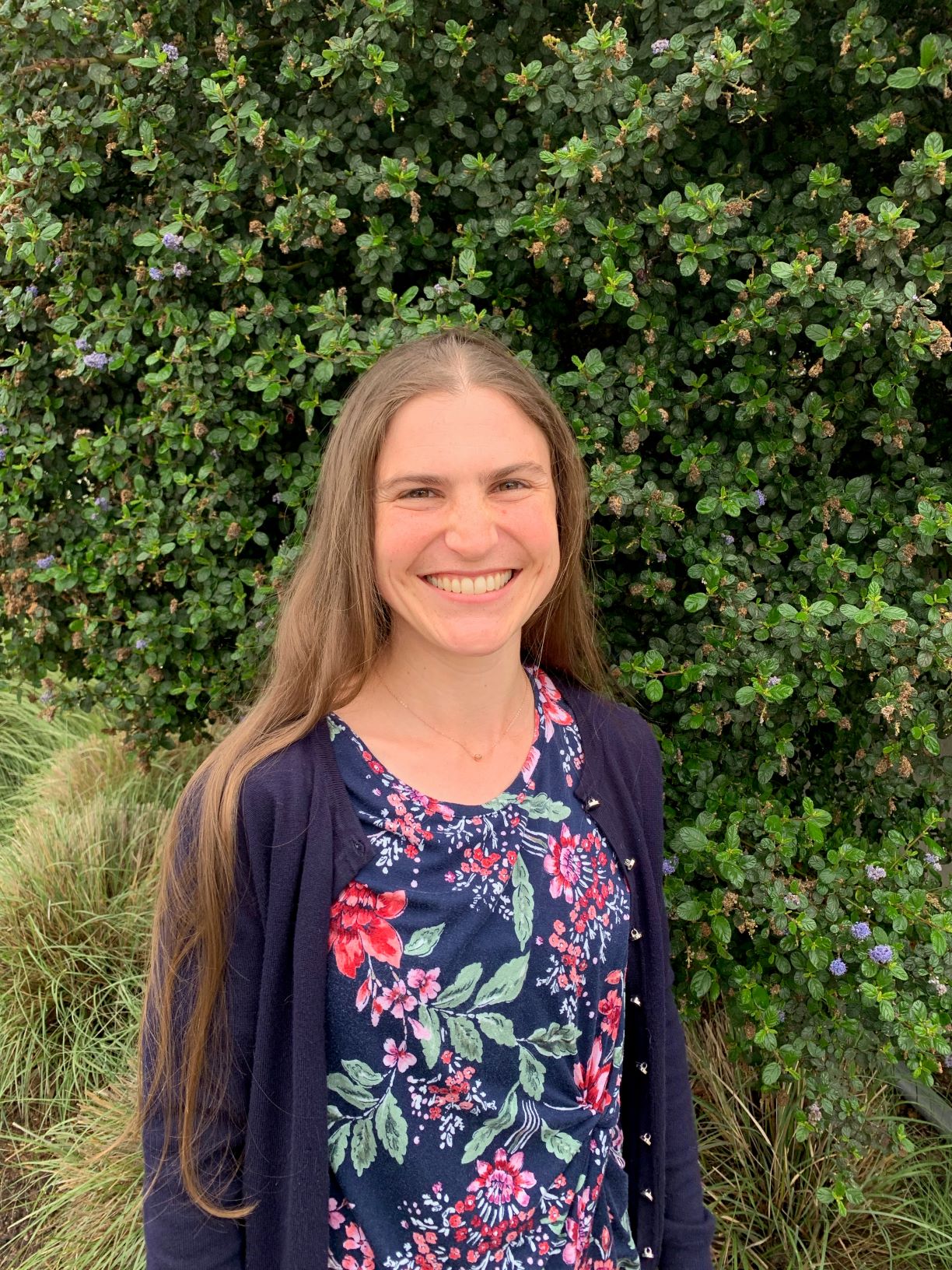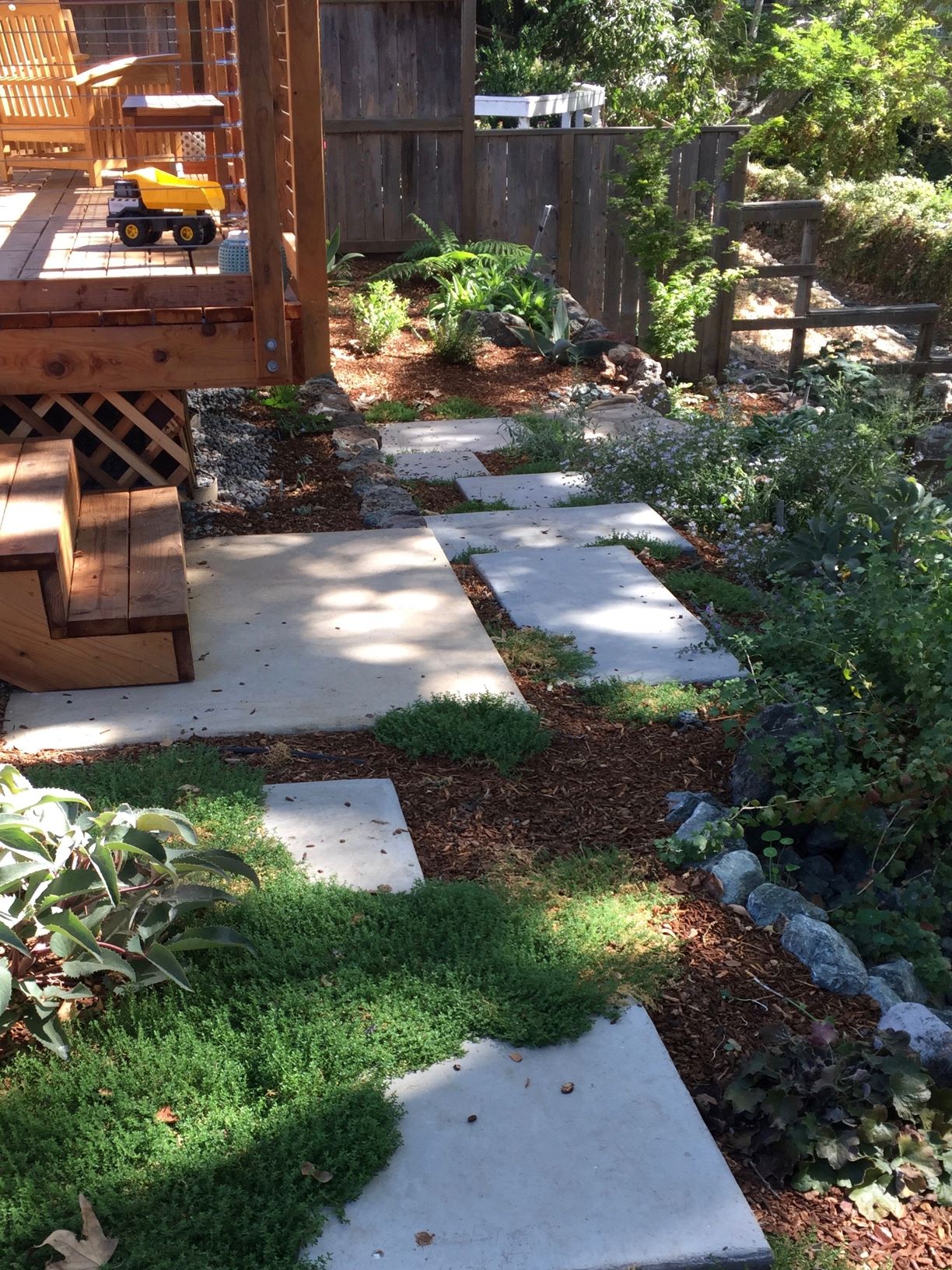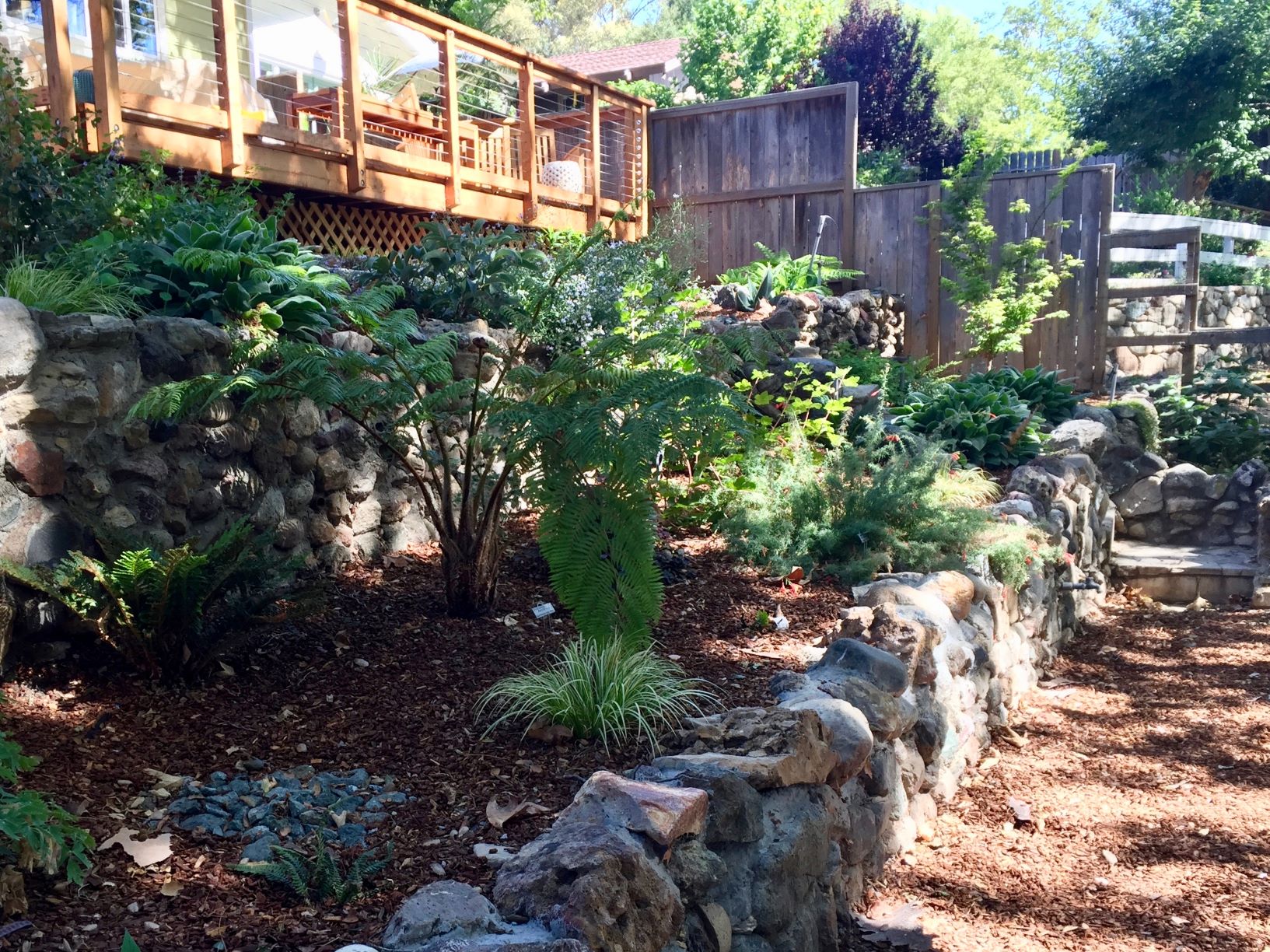 What is your favorite, or least favorite, plant and why?
As a designer I tend to picture plants in terms of colors and textures. I'm hard pressed to pick a favorite, but these are a few plants which I come back to again and again:  
1. Calylopus (Sundrops) is a plant I love for its bright yellow pop when in bloom. I especially like using it to brighten a rockscape or spill over a wall or container.
2. Euphorbia characias (Mediterranean Spurge) is one of my favorite plant species because of its unique forms and colors. It's a great year-round background of filler plant that will pop out at you when it blooms. 'Blackbird' is an especially neat specimen for interesting foliage!
3. Agave 'Blue Glow' is in my top plants list for its beautiful symmetry and year-round interest. This is a great stand-alone feature plant or planted en masse for a striking landscape.
My least favorite plant would be Stipa tenuissima (Mexican Feather Grass), because although it is beautiful it spreads everywhere and is a pain to get rid of! Early in my design career I used it in a few landscapes only to be dismayed by how it took over everything else, so now I fervently steer clear of using it.
What are some of your favorite hobbies outside of work?
I'm an avid vegetable gardener and collector of interesting succulents. I also enjoy hiking and identifying our local native plants. Indoors you can usually find me doing something creative like knitting, baking, drawing or playing cello.
Give us a fun fact about you!
On sunny days you might see me walking around town with a lizard on my shoulder. Her name is Aurora and she's a bearded dragon. My husband Alec and I have had her for about 5 years and love to take her places with us. It's a great conversation starter.