By Jill Bleher, Landscape Designer. Originally published in Living Lavishly VOLUME 14 Spring/Summer 2022.
As humans we seek habitats in which to dwell. This can be seen inside our homes as well as in our gardens. There are probably special things in your house that you cherish and enjoy. Maybe it is the family heirloom china displayed in a cabinet or the flat-screen TV that you use daily. These features help create an inviting space with their beauty, placement, and functionality. The approach is similar for designing an outdoor dwelling space. Have you ever visited a beautiful garden and wondered why it is so inviting? The answer is good design involving landscape features.
Landscape features are generally items that draw the eye, such as colorful pottery, a striking sculpture, or a beautiful tree. Features can also engage other senses, such as the sound of a fountain or the warmth of a firepit. Whether you have a small or a large yard, there are plenty of options for features to enhance your landscape experience. Here is an exploration of how to integrate features into your landscape retreat for the greatest effect.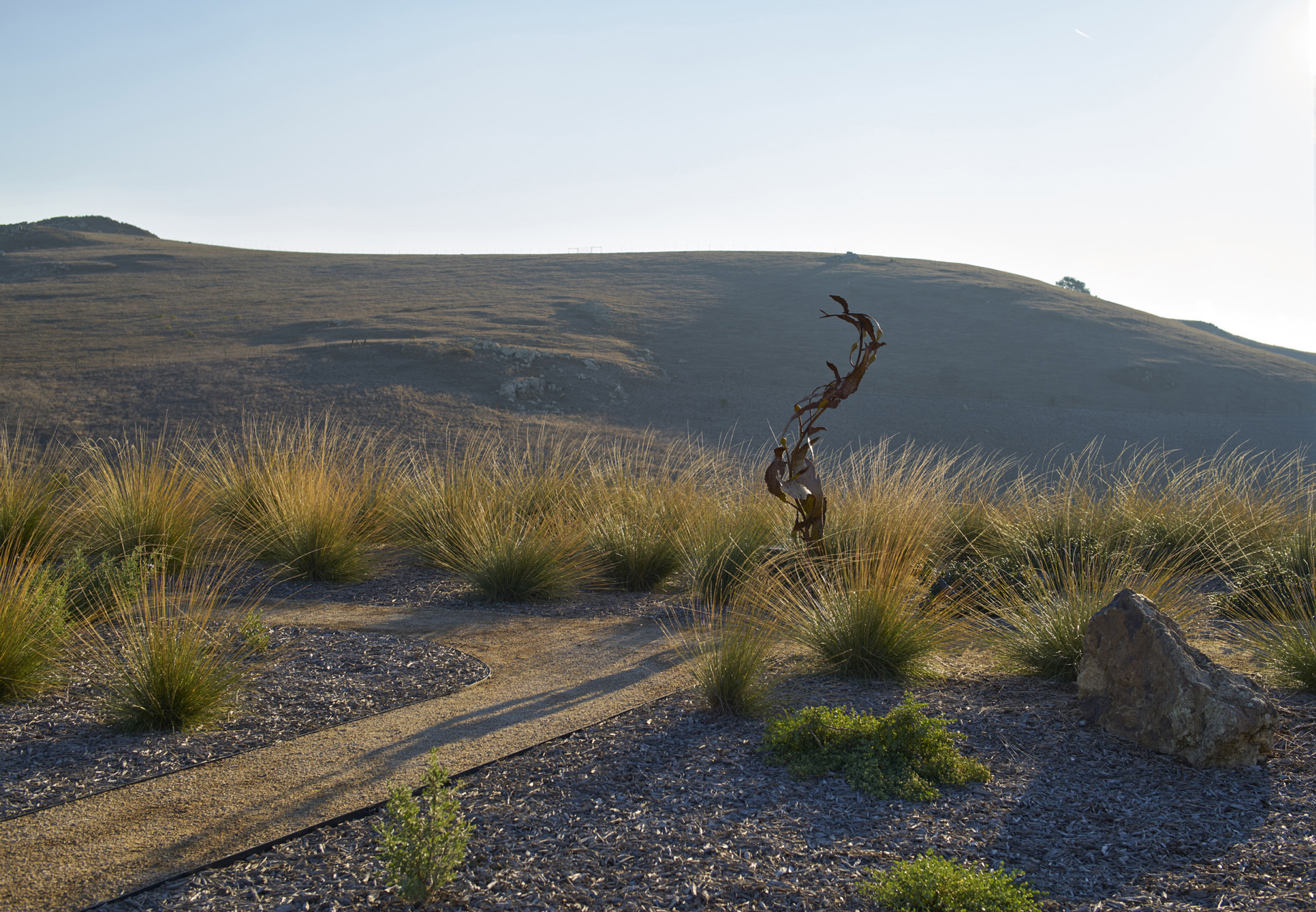 Art as a Focal Point
One way to personalize and add dimension to a garden is to add artistic features. Artful focal points can be as simple as a beautiful ceramic pot or as complex as a large-scale wind sculpture. Good placement for an art feature is at the divergence of pathways, in a nook to the side of a patio, or in a space viewed from above. Uplight your art feature so you can appreciate it after dark.
When selecting art features, consider the theme of the setting. Pick a modern art piece for a contemporary landscape, place vibrant Talavera pottery in a cactus garden, or choose a stone lantern for your traditional Japanese garden. Additionally, art focal points may have sentimental value, such as a souvenir plaque from a trip or a garden statue that belonged to a family member. Ultimately, the purpose of garden art is to add meaning and beauty to the landscape.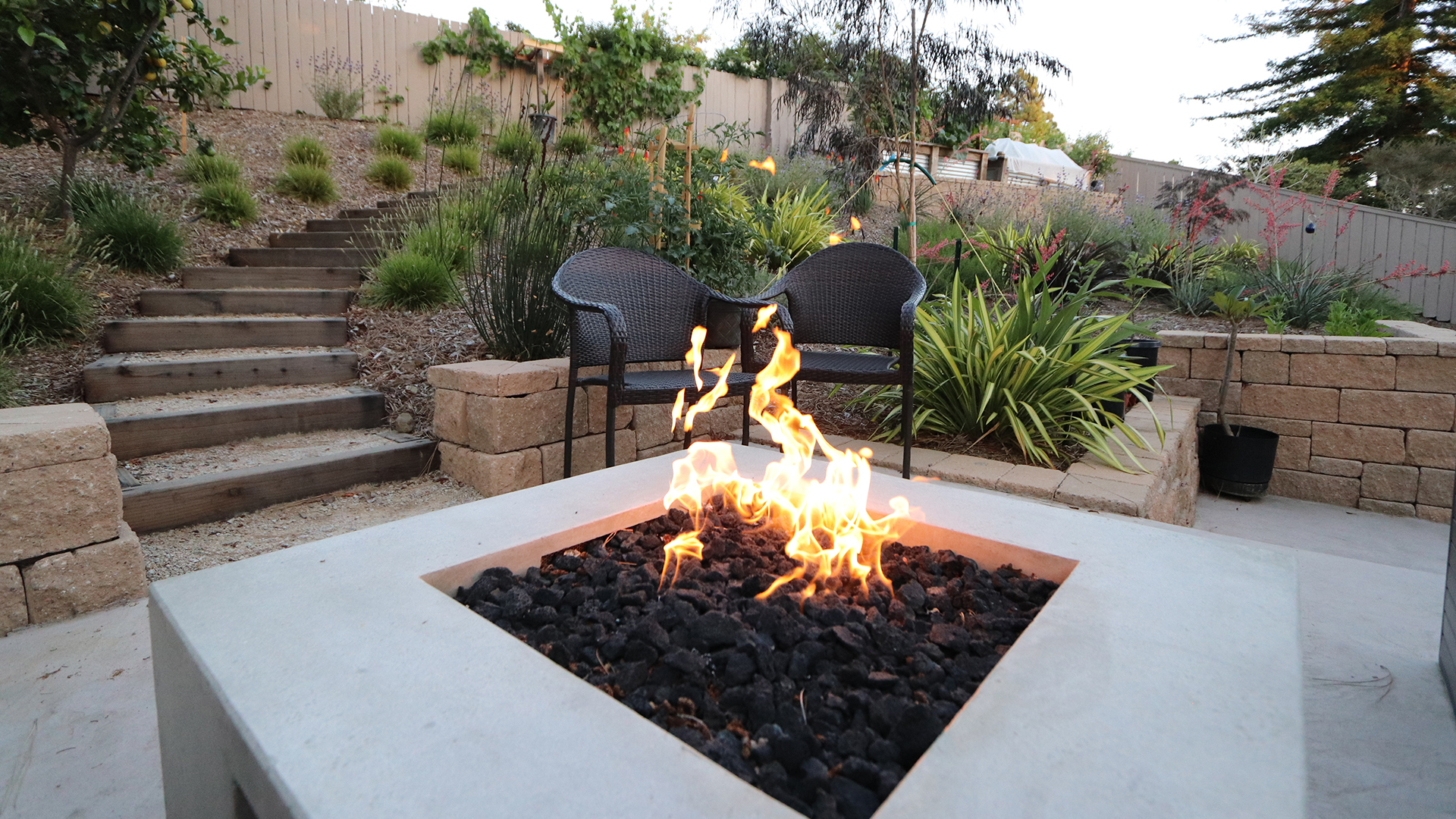 Water and Fire Elements
Ambiance is a fundamental part of the garden setting. A well-designed landscape invites the visitor to linger and appreciate the space. Two elements that are especially good at adding ambiance to any garden are water and fire features. Consider the welcoming glow of a fire or the peaceful sound of water. It's no wonder that both are common aspects of an inviting landscape sanctuary.
Deciding where to place a fire or water feature in the landscape is significant. Locate a fireplace or fire pit in a space where people can gather. If designing a new space, consider building a fireplace wall to partially enclose and warm a seating area. Moveable fire tables can be added to existing patios for an inviting element. Whether for roasting marshmallows or just adding light and warmth, fire features are ideal for inviting people to gather.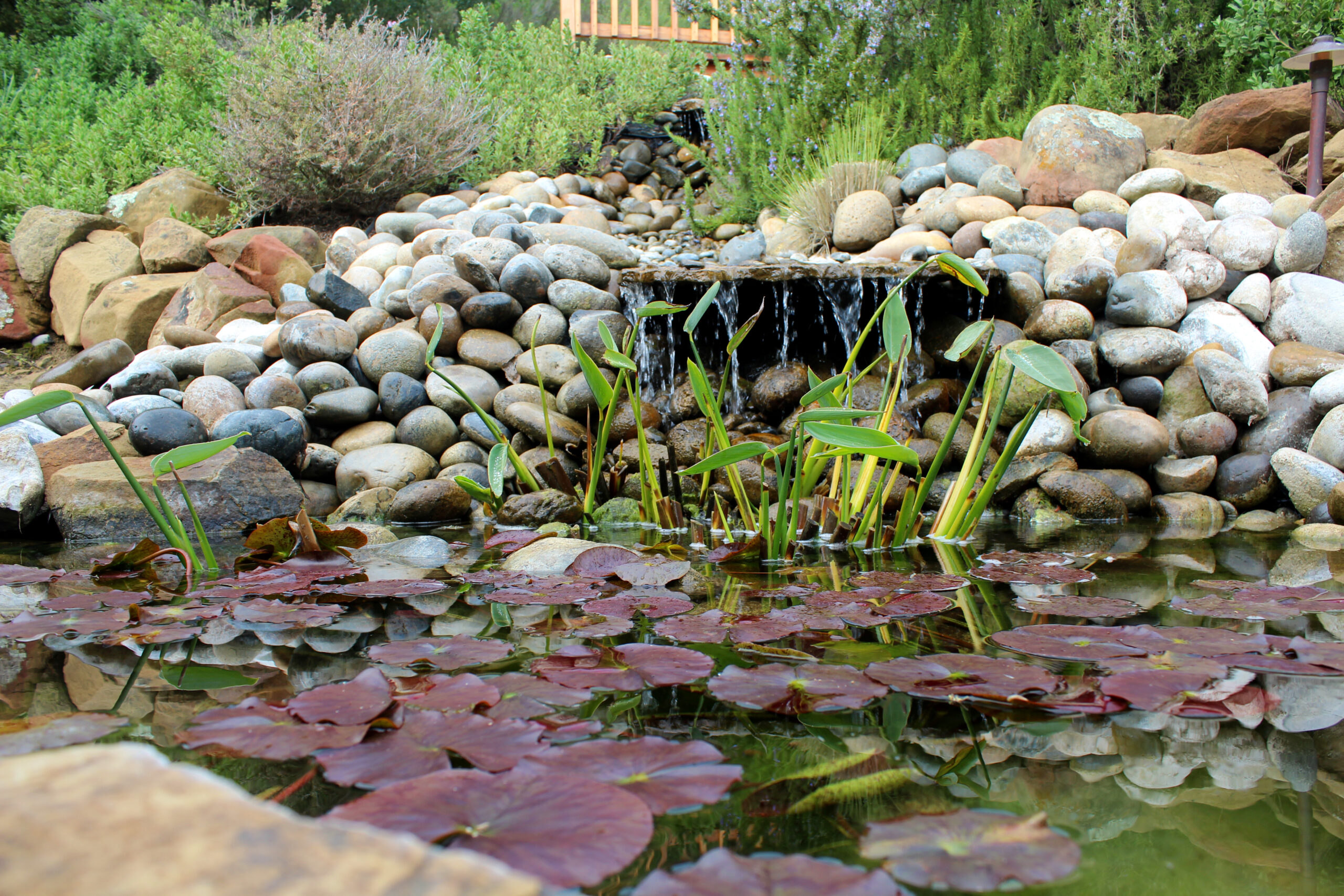 Since water features are sought out mainly for their sound, they can be tucked against walls or into nooks. Alternatively, they can be placed out in the center of a large space as a focal point. With so many options to choose from, it is best to match the style of your landscape. Select a steel water wall for a modern look, choose a core-drilled boulder fountain for a natural setting, or pick a tiered fountain for an Italian garden. Whatever the style, a well-placed water or fire feature will add dimension to the garden space.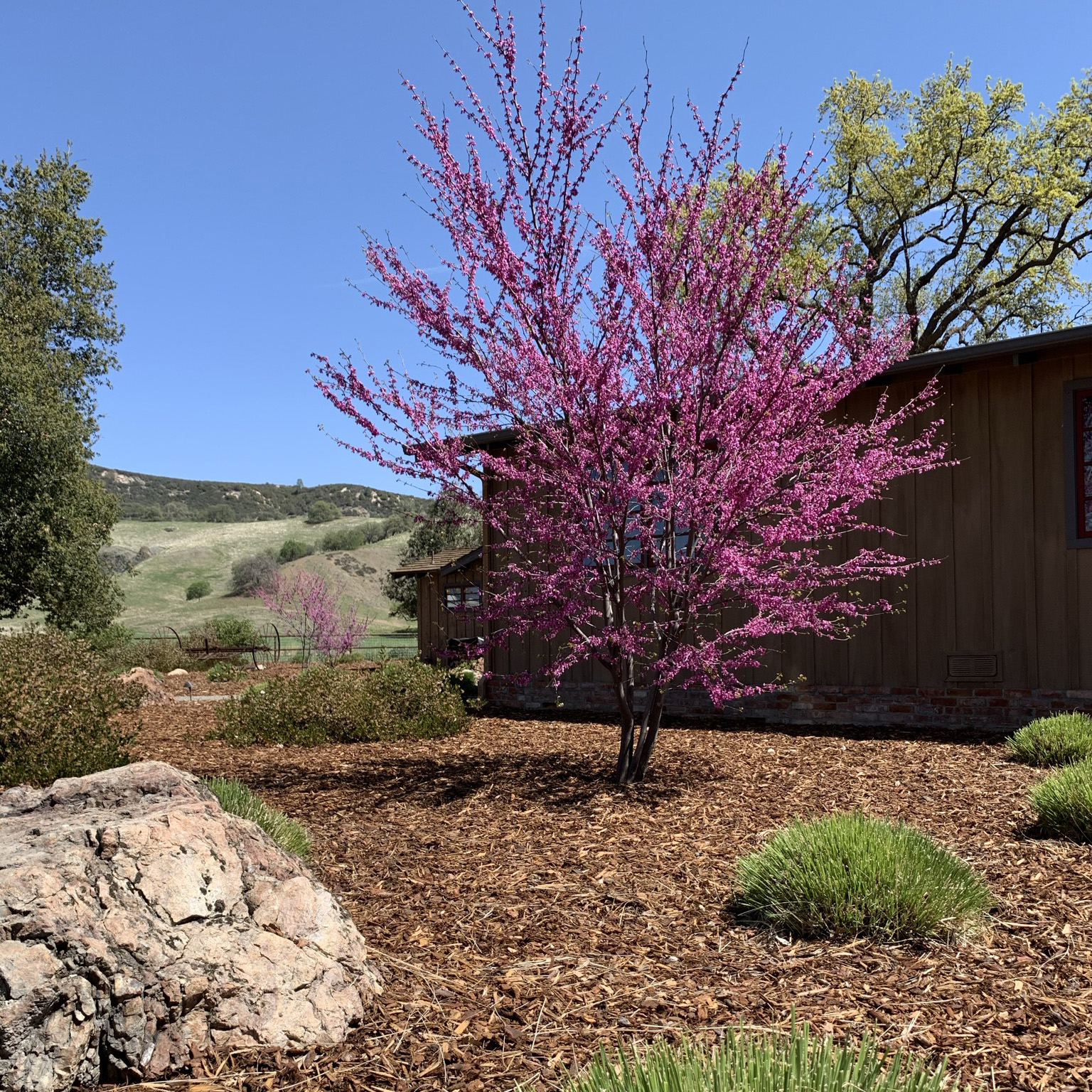 Plant Selections that Pop
Perhaps the most obvious garden feature is plants. However, by their very nature plants are dynamic and not as easy to highlight as a static fountain or statue – they grow and change throughout the seasons. For this reason, picking the right plants to showcase can take some thought.
Trees and large shrubs make excellent features due to their size and often interesting forms. Some of the best trees to draw attention to are olives and oaks as they have beautiful branch structures and grow more majestic with age. A favorite large shrub to feature is the Western Redbud which bursts into bright pink blooms in early spring. Large Manzanitas or Arbutus trees are also excellent selections to choose with their red bark and gnarled forms. Accent trees at night with either uplights or hanging moonlights.
If you don't have space for large trees, consider plants with striking architectural form such as Agaves or grasses to feature against a wall or along a pathway. Perennial blooming plants will delight seasonally. Try interplanting bulbs between other plants to add extra pops of color in spring!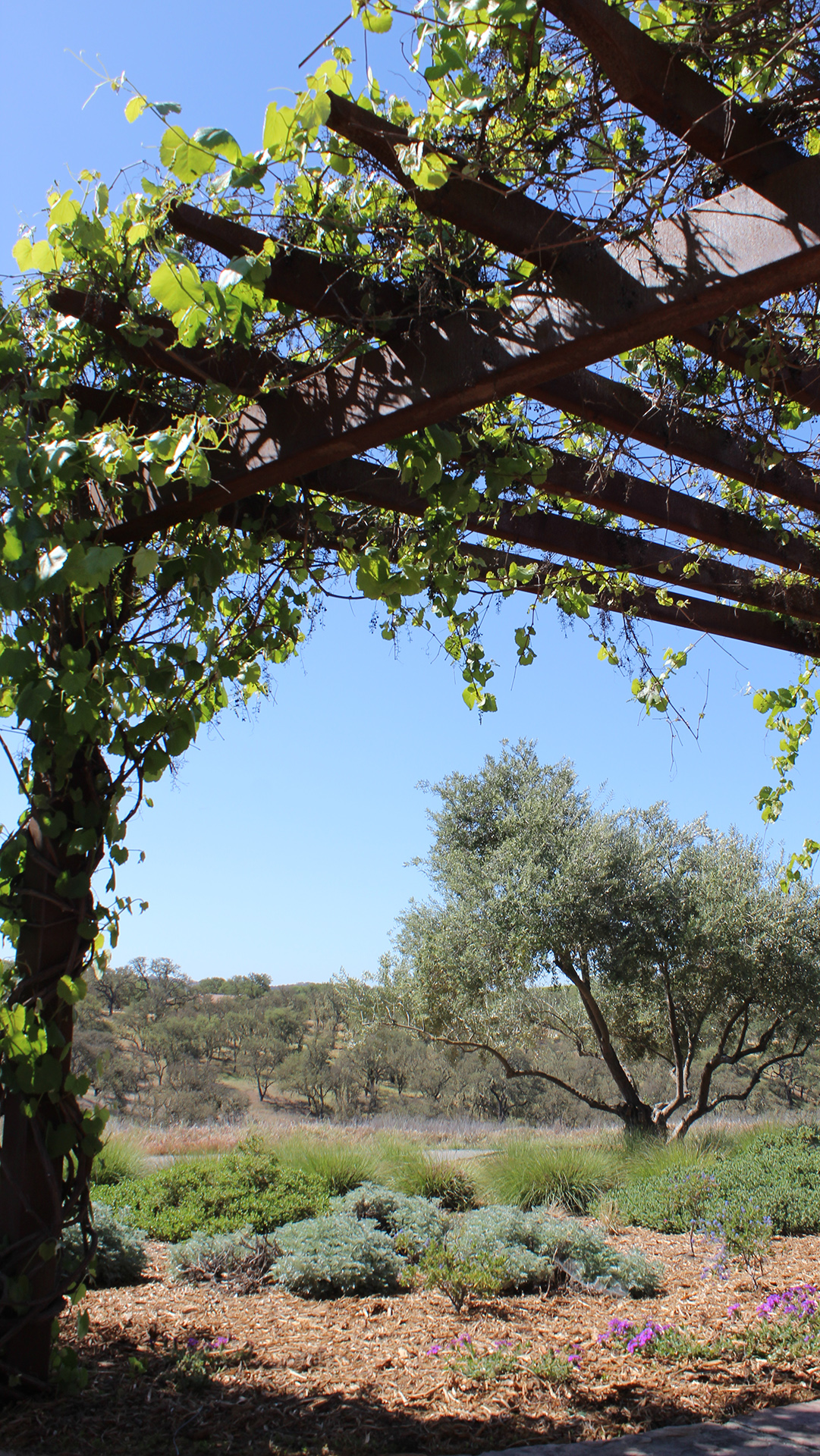 Borrowed Views
One powerful tool for creating a beautiful landscape is to incorporate views. A "borrowed view" is when a distant landscape is included in the garden design. For instance, build an arbor to frame a view of neighboring vineyards or leave space between trees to view the mountains beyond. It might be years before your newly planted oak trees can be considered features, but you can highlight the view of a magnificent oak tree in the field beyond your property.
Ultimately, borrowed views are a great way to make your immediate yard feel larger and grander. It's similar to adding a mirror on the wall in an interior room. Even a small yard will feel less enclosed if there is a view of the world beyond. Don't lose sight of the greater landscape!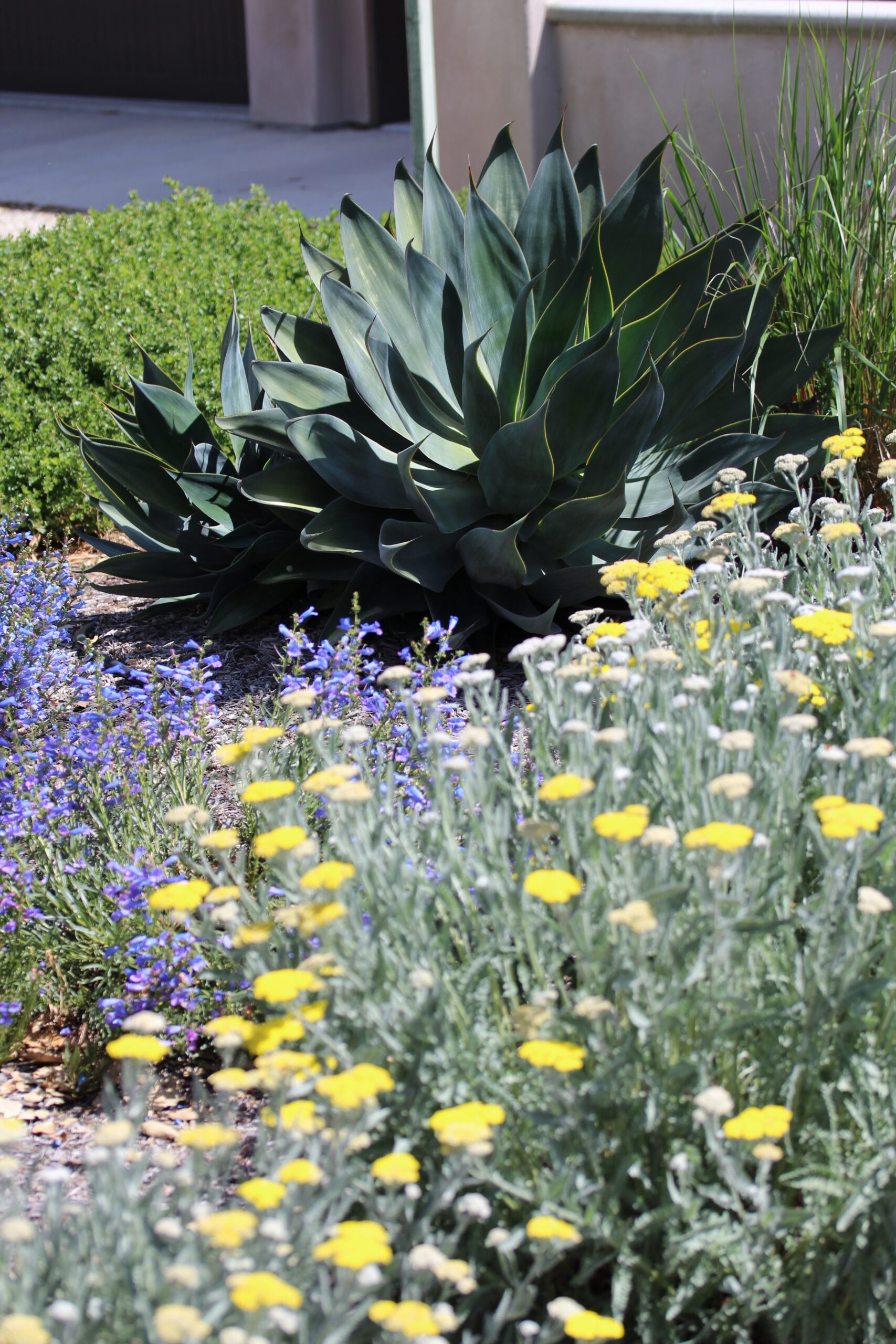 This exploration of landscape features and their applications applies to every person and every garden setting. Include one or many elements in your yard, but do it purposefully and make it personal! Seek out art features that catch your eye, add a fire or water feature to create ambiance, select plants to delight the senses, and borrow views when possible. In the end, don't hurry the journey but enjoy the process. In so doing, turn your landscape into a dwelling space that is an expression of yourself.  After all, genuinely superb gardens are dwellings that evolve with the time and ponderous consideration of a magnificent tree.
….
Jill Bleher is a landscape designer and Cal Poly Landscape Architecture alumnus. She is passionate about designing unique landscape sanctuaries for others. When not designing yards for other people, she can most often be found in her own garden or inside creating crafts. For more information, visit Madrone Landscape or call (805) 466-6263.