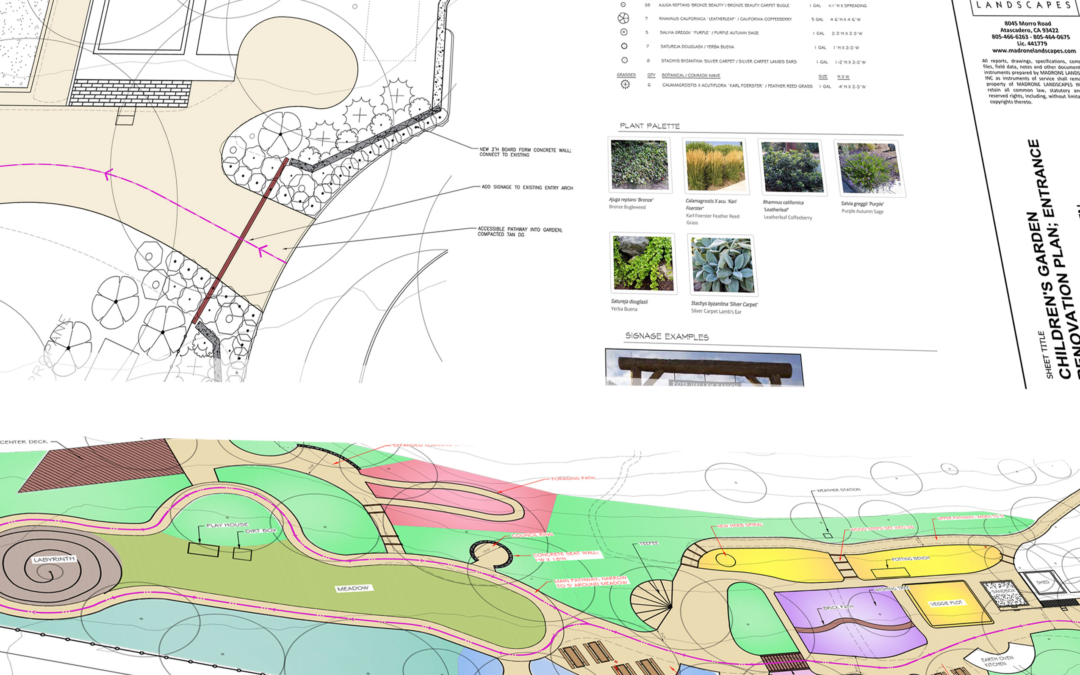 At Madrone Landscapes, our mission is to create inspirational landscapes that cultivate the natural beauty of California's Central Coast. This is a goal we share with the San Luis Obispo Botanical Garden (SLOBG), and it has been our pleasure to team with them on projects – past and current. Most recently, we've been working with SLOBG on their Children's Garden, which has long been a labor of love for many within the organization.
The SLOBG is a peaceful destination for residents and visitors, featuring winding paths, Mediterranean plants, and plenty of opportunities to learn and explore—but Education Director Lindsey Morgan longed for something more—a Children's Garden that would be a haven of imagination and play, free for "children" all of ages to enjoy. About a decade ago, Lindsey Morgan and many volunteers such as Sharon Lovejoy and Jayne Devencenzi set their sights on a new dream, a Children's Garden dedicated to the kids of the Central Coast area.
As with any large project of the heart, the SLOBG Children's Garden has been a work in progress. Up to this point, all unique features have been designed separately, as their budget allowed. Constructing such an important space has taken significant effort, and according to Executive Director Chenda Lor, the project currently includes two acres of planted garden.
"We are so grateful for the generosity of Rick Matthews and Jill Bleher of Madrone Landscapes," Chenda says. "Madrone Landscapes donated their time and professional resources to create one cohesive master plan, to make our vision for the Children's Garden a reality." At Madrone Landscapes, design is often the first phase of our services. We are working closely with SLOBG to refine their original concepts and solidify a master plan.
The whimsical "super vision" feels like something out of a storybook, and we are proud to have part in it. The Pollinator Garden is a paradise filled with bees, butterflies, and hummingbirds. The Sensory Garden is full of plants for children to touch, taste, and smell, and explore using all five of their senses. Children are encouraged to paint rocks at home and add them to SLOBG's Rock Snake, a serpentine stone sculpture that is growing every day, currently measuring nearly 50 feet in length! "Anyone having a hard day can visit the Children's Garden Wishing Tree," Chenda says, "the tender wishes placed there are sure to improve your mood."
The Children's Garden is a one-of-a-kind space, equal parts interactive, living plant museum and playground. It's full of things to do, with self-led activities, scavenger hunts, group activities, sandbox games, even a veggie house to explore. "SLOBG will continue to make improvements for years to come—thanks to the support of our generous Central Coast communities and partners—so visit often and enjoy the progress! Tickets are available online at www.slobg.org." Chenda continued, "SLOBG couldn't do it without the generous help of Madrone Landscapes. They donated their time, carefully listened to our needs, and helped us develop a master plan to reach our goals. They have been incredibly responsive and organized. Thank you, Madrone!"
Nicolette Sowder once wrote, "Gardens and children need the same things—patience, love and someone who will never give up on them." Madrone Landscapes is honored to be part of such an important project. The SLOBG Children's Garden is dedicated to children of all ages—we hope that it remains a place of peace, play, learning, and exploration for years to come.
Want more information on our landscape design services? Contact our landscape designers at [email protected] or (805) 466-6263.