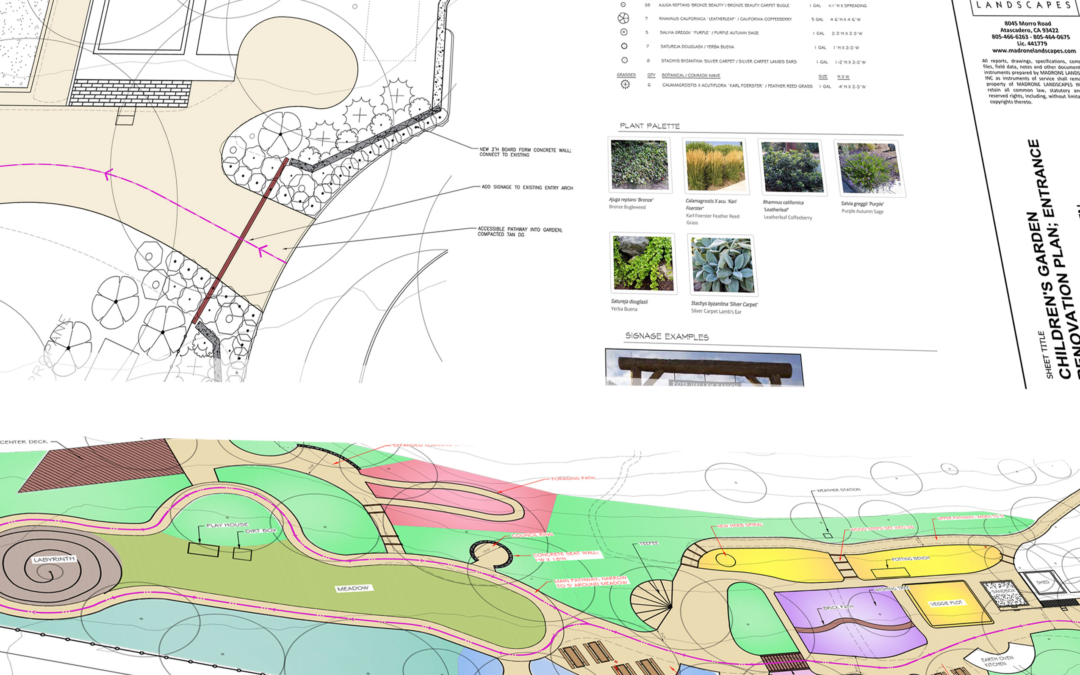 Master plan designs a place of peace, play, learning, and exploration for years to come
The SLOBG is a peaceful destination for residents and visitors, featuring winding paths, Mediterranean plants, and plenty of opportunities to learn and explore. About a decade ago, Education Director Lindsey Morgan and many volunteers set their sights on refining that effect into a devoted Children's Garden—a free haven of imagination and play for "children" of all ages to enjoy.
A Work in Progress
As with any large project of the heart, the SLOBG Children's Garden has been a work in progress. Up to this point, all unique features have been designed separately, as their budget allowed. Constructing such an important space has taken significant effort, and according to Executive Director Chenda Lor, the project currently includes two acres of planted garden.
Delightful Features
The Children's Garden delights, with playful spaces such as the Pollinator Garden, Sensory Garden, and Wishing Tree. The Pollinator Garden is a paradise filled with bees, butterflies, and hummingbirds. The Sensory Garden is full of plants for children to touch, taste, and smell, and explore using all five of their senses. Children are encouraged to paint rocks at home and add them to SLOBG's Rock Snake, a serpentine stone sculpture that is growing every day, currently measuring nearly 50 feet in length! "Anyone having a hard day can visit the Children's Garden Wishing Tree," Chenda says, "the tender wishes placed there are sure to improve your mood."
In an amazing addition, Rubes' comic artist Leigh Rubin has scattered cartoon bunnies throughout the garden—ten in total. These delightful images do everything from meditating to frolicking in the flowers. And, famous for his cows, Rubin even managed to sneak in one or two rabbit-like bovines for giggles. His local creative touch brings the living space into further brilliant relief, and they're perfect for the space, as there is nothing better than giggling children.
A Cohesive Master Plan
After brainstorming with the SLOBG Children's Garden Task Force and among our Madrone office team, we developed a Master Plan to encompass all the many elements and ideas in this garden. A key goal is to make the Children's Garden more inclusive, accessible, and welcoming to many. We want to maintain the whimsical wonder of the existing garden and weave in more of a story and theme that allows for further cohesive expansion in the garden.
"We are so grateful for the generosity of Rick Matthews and Jill Bleher of Madrone Landscape," Chenda says. "Madrone Landscape donated their time and professional resources to create one cohesive master plan, to make our vision for the Children's Garden a reality." At Madrone Landscape, design is often the first phase of our services, and this is one of our favorite efforts to date.
The new master plan for the SLO Botanical Garden Children's Garden is a labor of love and whimsical wonderland, filled with bright native plants, edible gardens, and an outpouring of effort to make sure its magnetic qualities enrich the family experience upon visiting.
Interactive, Creative Spaces
In all, our cohesive master plan establishes four main areas: the Fun Zone, Fairy Land, Food Forest, and Exploration Loop. These creative spaces were all designed with inclusivity and accessibility in mind, as well as the opportunity to expand the garden at a future date.
The Children's Garden is shaping up to be a unified and beautiful love letter to childhood curiosity and exploration. Equal parts interactive, living plant museum, and playground, an established story and theme leads children through self-led activities, scavenger hunts, group activities, sandbox games, a veggie house—all contributing to the fanciful but concrete and profound beauty of nature.
Madrone Lends a Hand
"SLOBG will continue to make improvements for years to come—thanks to the support of our generous Central Coast communities and partners—so visit often and enjoy the progress!" said Chenda. "SLOBG couldn't do it without the generous help of Madrone Landscape. They donated their time, carefully listened to our needs, and helped us develop a master plan to reach our goals. They have been incredibly responsive and organized. Thank you, Madrone!"
Madrone Landscape is honored to be part of such an important project. Nicolette Sowder once wrote, "Gardens and children need the same things—patience, love and someone who will never give up on them." We have designed this garden with lots of love and patience, and we hope that it remains a place of peace, play, learning, and exploration for years to come.
Tickets are available online at www.slobg.org.