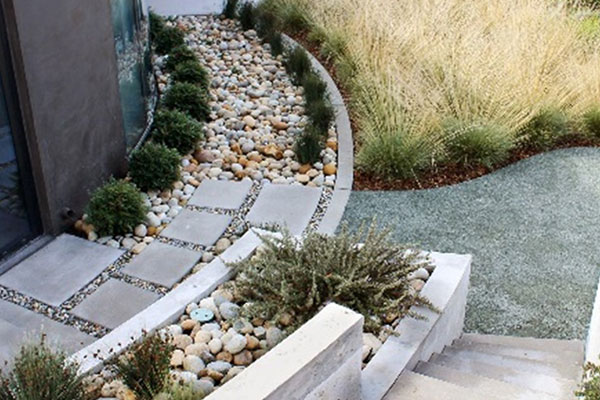 Plants make for a dynamic and vibrant landscape. Showy flowers bloom in windows during spring or summer. Deciduous trees will sport vibrant new growth in spring, yet revert to bare branches for winter. Successful landscapes plan for this seasonal interest and evolution of space.
Other elements of the designed landscape are more stable: hardscape such as concrete and stone, tables and chairs, pergolas and fire pits, gravel mulch and water features. Combined with thoughtful plantings, they take on a special character throughout the seasons of the year.
What if a landscape has none of these things? What if a landscape boasts a massive lawn bordered by shabby plantings and cracked flatwork? How does one get from current run-down reality to the final vision for a space? Where does one start?
The steps below move in sequence, with simplest and easiest first. Halfway through, technical & design expertise begins to play a greater role. But don't be discouraged, coming to a landscape designer with ideas and inspiration, will make their job easier! More importantly, time spent exploring, collecting, and considering preferred landscape styles will direct design exploration toward a clearly defined vision.
Explore The Neighborhood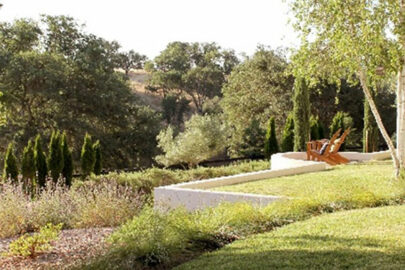 One of the best ways to kick off a design effort is to take a walk around the neighborhood! Take a friend or family member along and critique the landscape types and styles. Better yet, discuss the desirable and undesirable elements: the plants, materials, and the edges and joints that stand out. Bring a notebook to make lists and a phone to take photos. Take a short video or two, recording the landscape areas while talking.
"Neighborhood" is a relative term; consider expanding the search to neighborhoods in the vicinity. Most towns have multiple pockets of unique or inspiring architectural styles and landscape designs. Newer developments might have the hot new low-water planting palettes; historic districts might have a variety of styles incorporating local materials and time-tested layouts. Consider the orientation of structures in the landscape and pay attention to how similar spaces are utilized within them.
Collect Inspirational Imagery
Once oriented to real landscape projects in your local context, move to the digital universe. In addition to print publications, the internet and even social media are a wealth landscape inspiration. Several platforms are built around curating image content—these include Pinterest, Houzz, The Spruce, HGTV, Instagram and more. Even a simple Google search will turn up a trove of landscape images across all types of styles and climates. For inspiration appropriate to the various drier regions of the Central Coast, adding keywords such as California, Native, Mediterranean, Drought Tolerant, and Desert will help, especially with plant species.
The digital exploration phase is a great opportunity to familiarize with a network of frequently used terms—modern versus rustic, drought-tolerant vs xeric, low-maintenance vs lush & colorful, or turfgrass vs ornamental grass. Some are self-explanatory, others are less-so. An understanding of these terms can give clarity when communicating with others, especially designers, architects, and contractors.
Assemble a Palette of Materials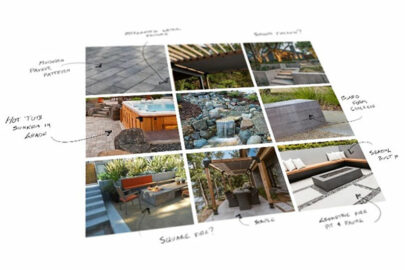 After collecting images and notes for inspiration, it's time to organize. Begin by saving all the noteworthy or important photos; web links to specific materials or products will save time later too. Now is the time to start narrowing down style and identity; lay the photos out, either on a table, in a word processor, or in another photo management tool. Identify the imagery that best captures your ideal feeling or vibe and begin culling the least cohesive images. There are various ways to organize a material palette, but one simple approach involves a breakdown into three categories:
Character: Character photos contain a mix of elements, including furniture, architecture, vegetation, and landscape. These images are often broad angles and represent a particular style or sense of place.
Hardscape: Hardscape is the structure and backbone of a site—walls, flatwork, fountains, walkways, boulders, rock mulch—anything that is installed once and stays put. Hardscape elements are typically the biggest-ticket items, consistent throughout all seasons, and relate closely to building layout and materials.
Plant Palette: Plants breathe life into a space—yet come with a unique set of opportunities and strengths; not the least of which is need for the proper combination of sun, soil, and water. Taking plant inspiration from the neighborhood is often one of the best ways to find climate-appropriate plant selections. Even so, the microclimates within your property (particularly sun and wind exposure) may differ and affect plant viability. A palette based on the desired look can be combined with some horticultural know-how to develop a specific plant list.
Develop a Concept Plan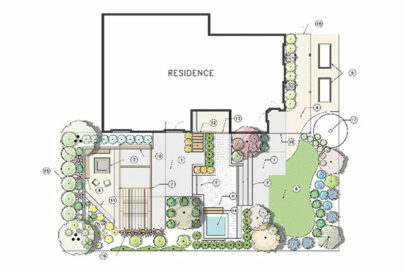 After all this preparation, it's finally time to begin design. Be advised, here's where the little details about your site begin to matter. Developing a concept starts with a properly scaled base map. That includes measuring locations of utilities—electrical, water, gas—as well as existing plants and trees, buildings and hardscape edges, changes in elevation, and more. A good plan starts with an accurate base map: if in doubt, hire a professional surveyor or designer to get it right.
Every concept plan is unique. For most landscape designers, the concept plan is an initial and approximate plan view drawing of all the proposed elements. At this state, it's important to locate key features such as shade trees and shrub areas, but an exact quantity and size is less important. Concept plans are easiest developed on paper with pen and paper. Start with a pencil, work through a few options, and then get a thicker pen out to trace final shapes. Make notes for each unique piece to assist in communicating the design intent.
Sketch Landscape Vignettes

Perhaps a concept plan would help a bird visualize your landscape, but a plan drawing doesn't really show you what the landscape feels like from ground-level. A sketch or "vignette" of a view can be a powerful visualization tool. In fact, this can be helpful before, during, or after development of the concept plan. The plan drawing helps to organize and orient in the horizontal plane, but "perspective" views orient both horizontally and vertically.
One powerful shortcut to developing vignettes is drawing over a photo. A professional-level program such as Adobe Photoshop can help produce high-quality vignettes, but a hand drawn sketch on paper or a tablet is great too. It can be helpful to lighten the background image, or adjust it to black and white, to help your drawing overlay pop. Use thick dark lines if necessary, and bright colors or markers to differentiate new elements from the existing.
Experiment with 3D Modeling

While some have natural creative impulses, others may need to take a more technical or mathematical approach. In recent years, free and low-cost 3D modeling software has emerged as a powerful tool for visualization. Google Sketchup is a commonly used and user-friendly platform for 3D design of all sorts, landscape included. Many other companies have developed a variety of digital tools across a range of price points and user-friendliness.
At this point, an accurate base map is critical. Property lines, building footprints (including doors and windows), trees, walls, and edges of existing hardscape elements will be important to note and include on the digital base map. It may not take much to model the basic elements of a flat space with simple elements; curves and slopes can add significant difficulty. Even if your landscape area isn't perfectly straight, it may still be helpful to model the basic layout and shapes of all the pieces.
Render in Photorealistic Detail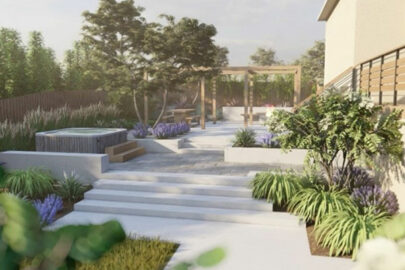 Digital rendering technology provides opportunities for realistic 3D images to capture the elements and even the feeling of a landscape. Combining simple 3D models with extensive libraries of textures, plants, environments, and more produce incredible results. Lumion is a program that has emerged as a very user-friendly yet powerful tool for landscape visualization.
Most homeowners can very realistically explore their neighborhood, collect inspirational imagery, and assemble a palette of materials. If the rest of the sequence sounds like a bit much, that's no problem at all; landscape designers will be familiar with what it takes to get further and all the way to installation. Developing plan drawings are the bread and butter of landscape design practices, but these additional visualization methods are the helpful and fun tools on the journey toward creating the perfect landscape!