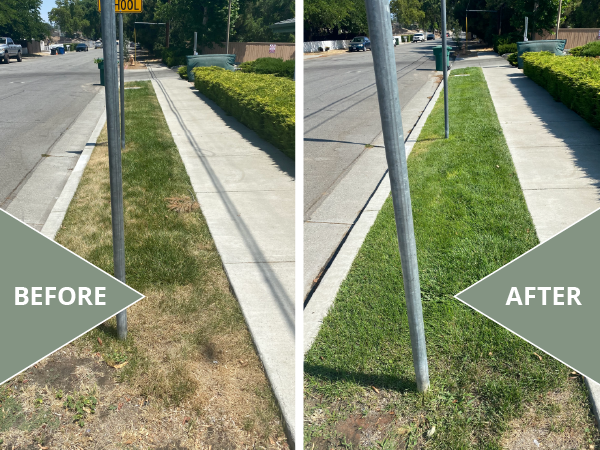 Paso Robles Youth Arts Academy's lawn curb strip was slowly dying off. After four weeks of Moisture Manager treatment by Madrone Landscape, the curb strip is green again!
Beating the Summer Heat: Landscape Resilience with Moisture Manager Application
Summer brings soaring temperatures, along with the potential for parched lawns and burnt plants. While increasing watering might seem like the solution, it's not always practical and can even run afoul of water conservation efforts. In this article, we explore a quick and affordable solution to conserve water and keep your lawn and plants green: moisture management.
Going Beneath the Surface: How Moisture Management Works for Your Landscape
Moisture management starts at the plant roots. Much of the moisture in your soil evaporates before your plants can make use of it. Moisture manager applications change the game by reducing water requirements. They create a protective film around plant and turf roots that attracts and captures water molecules, storing them on the root and soil surfaces. These droplets are then gradually released into your lawn, ensuring efficient water utilization.
Safe, Effective, and Easy: The Moisture Manager Product
The product used for moisture management comes in liquid or granule form. It's both kid- and pet-friendly and doesn't contain any toxic ingredients that could lead to runoff or groundwater contamination. Erik Gorham, Madrone's Operations Manager, explains that applying the granules with a whirl spreader and immediately irrigating the treated area can yield visible improvements in turf color and seed germination in just one to two weeks.
Partnering for Plant Health: Year-Round Soil Moisture Management
Madrone, with its focus on water conservation, plant health, and aesthetics, offers a comprehensive approach to moisture management. The landscape maintenance teams can collaborate with homeowners and property managers to develop a year-round soil moisture management program. In cases of dry winters, Erik suggests establishing an application schedule where the crew visits two or three times a year to maintain optimal moisture levels and break the drought cycle in plants.
Saving Water, Money, and Maintaining Beauty: The Advantages of Moisture Management
Whether you're a homeowner or property manager, there are numerous benefits to Madrone's moisture management services. Their detail-oriented staff not only helps you save on your water bill but also ensures a beautiful, lush landscape year-round.
Contact Us for a Resilient Landscape
To discover more about Madrone's maintenance services and how moisture management can benefit your landscape, reach out at [email protected] or call (805) 466-6263. Don't let the summer heat wither your plants; instead, let moisture management keep them thriving.