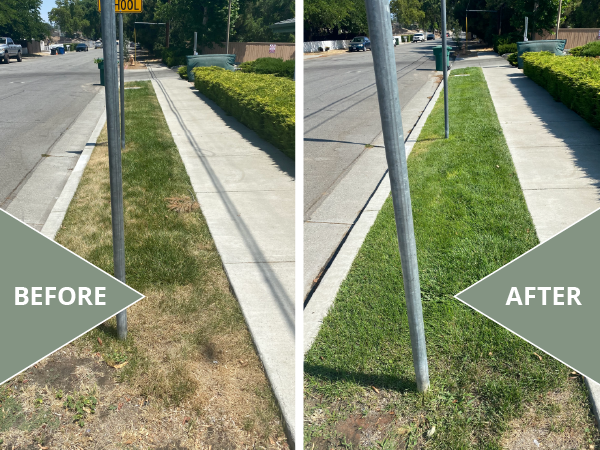 Paso Robles Youth Arts Academy's lawn curb strip was slowly dying off. After four weeks of Moisture Manager treatment by Madrone Landscapes, the curb strip is green again!
Beat the Summer Heat with Moisture Manager Application
As summer temperatures soar, we often start to see burnt plants and grass. Your first instinct may be to solve the problem by increasing the frequency and volume of watering, but that really won't help address the issue, and you may run afoul of water shortage contingency plans.
If you're looking to conserve water and keep your lawn and plants green, Madrone's Operations Manager Erik Gorham has a quick, affordable solution for you: moisture management.
Moisture management begins at the roots. Most of the moisture in your soil is lost to evaporation before the plant can utilize it. An application of a moisture manager helps reduce the amount of water needed by forming a thin film around turf and plant roots. That film attracts and captures water molecules and then stores them on plant roots and soil particle surfaces. These droplets are then released into your lawn.
The product applied to the lawn is a proprietary treatment that comes as a liquid or granule. It's kid- and pet-friendly and free of toxic ingredients that may cause runoff or contaminate groundwater. "I've applied a granular using a whirl spreader and then immediately irrigated the treated area," describes Erik. "One to two weeks later, I've seen improved turf color and increased seed germination."
As a company that focuses on the effective use of water conservation, plant health, and aesthetics, Madrone's landscape maintenance teams can work with you to develop a year-round soil moisture management program. If we're having a dry winter, Erik likes to work with an owner to establish an application schedule where our full-service crew visits two or three times a year to help manage moisture levels in the soil and break the drought cycle in plants.
Homeowners and property managers alike will appreciate our detail-oriented staff, saving on your water bill, and a beautiful year-round landscape.
Learn more about our maintenance services. For more details, contact us at [email protected] or (805) 466-6263