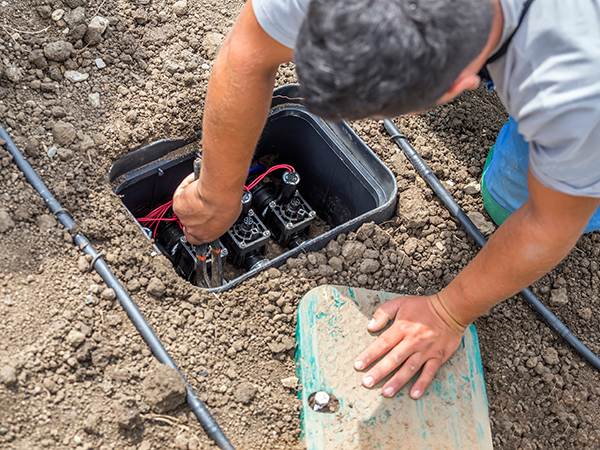 Set it, forget it. Give plants the nutrients without all the hassle.
We're all familiar with irrigation. It's been a means of maintaining landscapes and growing crops for thousands of years. Applying controlled amounts of water helps supplement natural rainfall and contribute to soil moisture from groundwater.
Fertigation combines fertilization and irrigation, serving as a nutrient delivery system for landscapes. It can be used via drip irrigation, spray nozzles, and heads.
Madrone Operations Manager Erik Gorham has provided fertigation services for almost a decade. He uses the EZ-FLO products to treat a wide variety of landscape issues. To start the process, our trained Madrone team first installs a dispensing system in the valve box connected to the main line of a pre-existing sprinkler system. The unit then feeds both drip and sprinkler zones by micro-dosing the landscape with every irrigation. "You really can forget about it, because part of our landscape maintenance program includes filling the unit with fertilizer every four to six weeks," Erik shares.
We use Red Frog Compost Teas as part of our organic fertilizer program. The compost tea improves soil and plant health by improving nutrient availability and retention in the soil. "Biology feeds the plant," explains Erik. "Typically, what plants need is in the soil. But if your soil is depleted, the worm castings offer an excellent soil amendment that is safe around children and pets."
Savings on labor and energy costs can quickly offset the initial investment in a fertigation system. A homeowner who lives in an area affected by drought or water restrictions may prefer fertigation because they can better manage the nutrients and water supply going to multiple parts of the growing area as well as increase water efficiency. It also gives them the ability to add nutrients directly into the root zone that may be otherwise difficult to access.
Erik sees it as an affordable investment to every landscape. "You chose your plants carefully. Help them mature more quickly and stay healthy by using this easy fertilizer system all year round."
Learn more about our maintenance services. For more details, contact us at [email protected] or (805) 466-6263.