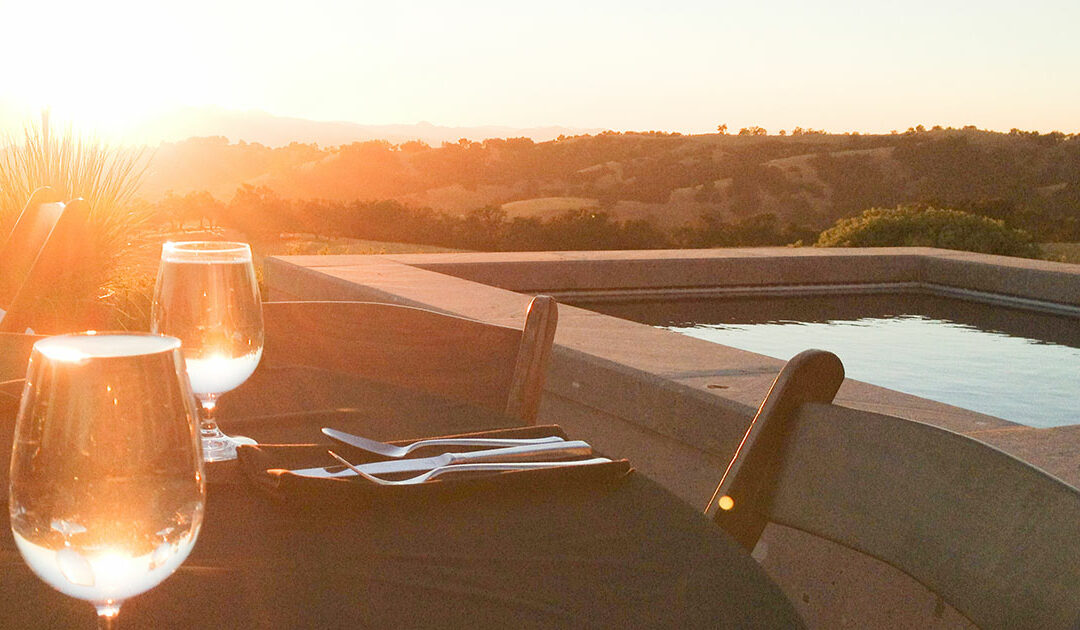 The Perfect Outdoor Party Space
Written by Tyler Ellison, Designer
Originally published in Living Lavishly
We know how much the venue sets the vibe. On the California Central Coast, the outdoors are a vibe. Mild evenings allow for gatherings almost year-round, so outdoor spaces become parts of the home—extensions of the kitchen, the dining room, the living room, the party. Properly envisioned outdoor spaces transform a bland lot into vibrant, flexible, and personal additions to the interior living areas. Here are some considerations for creating the perfect outdoor party space: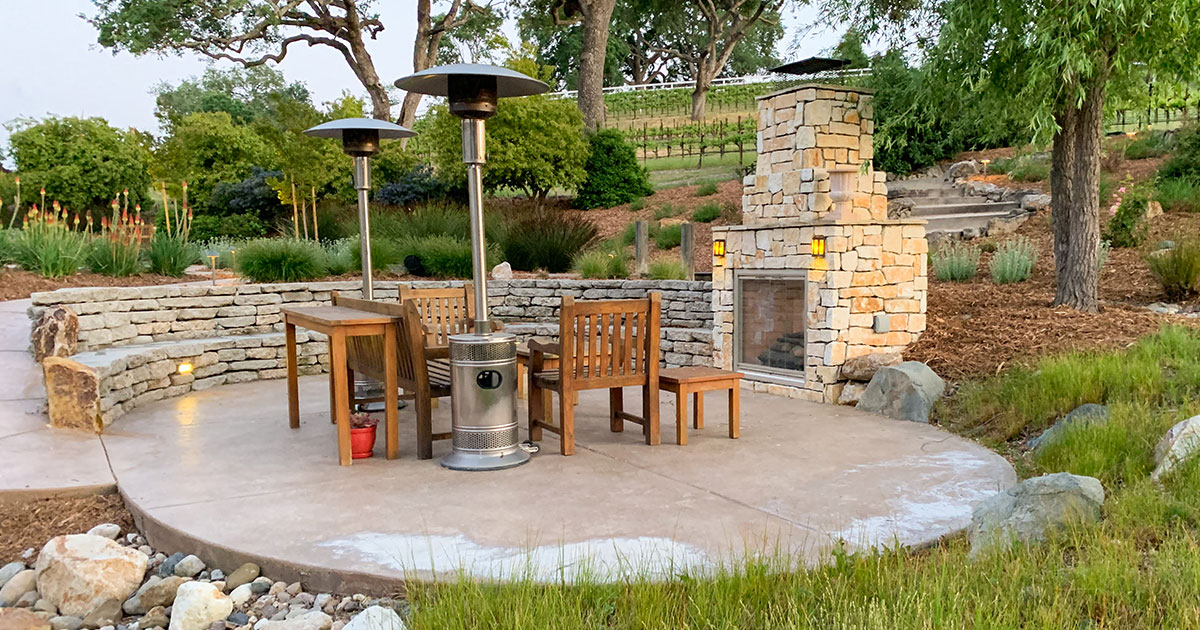 Embrace a Particular Design Character
A grove of trees, a feature wall, a boulder outcrop, or interior architectural styling might all imbue landscape character—conversely, a mishmash of incoherent features and materials is the easiest way to disjoint a garden. Attention to character results in the inclusion of similar materials, complementary colors, and pleasing combinations of texture. Perhaps a tile accent inside the house is repeated in a kitchen backsplash, or a modern architectural design mirrored with segmented concrete or clean large-format pavers. A thoughtful geometry of layout, attention to edges, and repetition of plant selections also work together to establish a cohesive character. During design it is helpful to collect imagery of specific materials and arrange them in palettes to ensure that selections are complementary and attractive.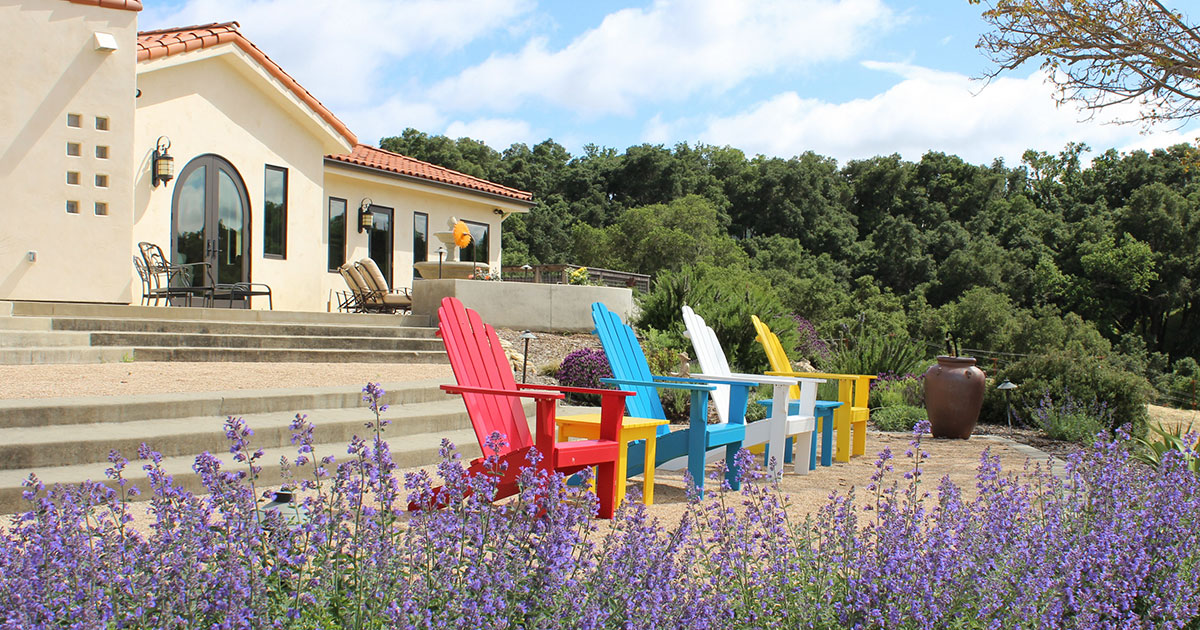 Determine Key Amenities for Your Type of Party
A patio dining space often provides the foundational element. Food and drink are the fuel for good times, so having dedicated locations for sitting while eating, standing while munching, even lounging while browsing gives opportunities for a diversity of guests and party sizes. Additionally, a buffet location adjacent to cooking zones allows for flexibility during food preparation and service. In the planning stage, it is helpful to create a list of desired uses and features. Some of amenities worth considering on the Central Coast include:
Cooking – Gas BBQ, Griddle, Stove, Smoker, Wood Burning Oven, Ceramic Charcoal Grill
Kitchen Elements – Sink, Counterspace, Trash Receptacle, Island, Refrigerator, Cooler, Warming Drawer, Cabinet, Water Heater, Ice Maker, Beverage Tap, Storage Drawer, Shelving
Seating & Eating – Table & Chairs, Bistro Set, Bench, Bar Seating, Lounger, Seat Wall, Boulder Slab, Swing, Hammock, Patio, Deck, Nook, Overlook
Activity & Play – Pool, Hot Tub, Plunge Pool, Play Structure, Hard Court, Turf, Bocce Court, Open Game Space, Sand Box, Ping Pong Table, Horseshoe Pit
Comfort & Protection – Pergola, Gazebo, Heater, Fireplace, Wind Screen, Shade Sail, Umbrella, Shade Tree
Warmth & Atmosphere – Firepit, Fire Feature, Fountain, Waterfall, Pond, Boulder Outcrop, Sculpture, Dry Creek, Wall, Gate, Arch, Pillars, Trees & Planting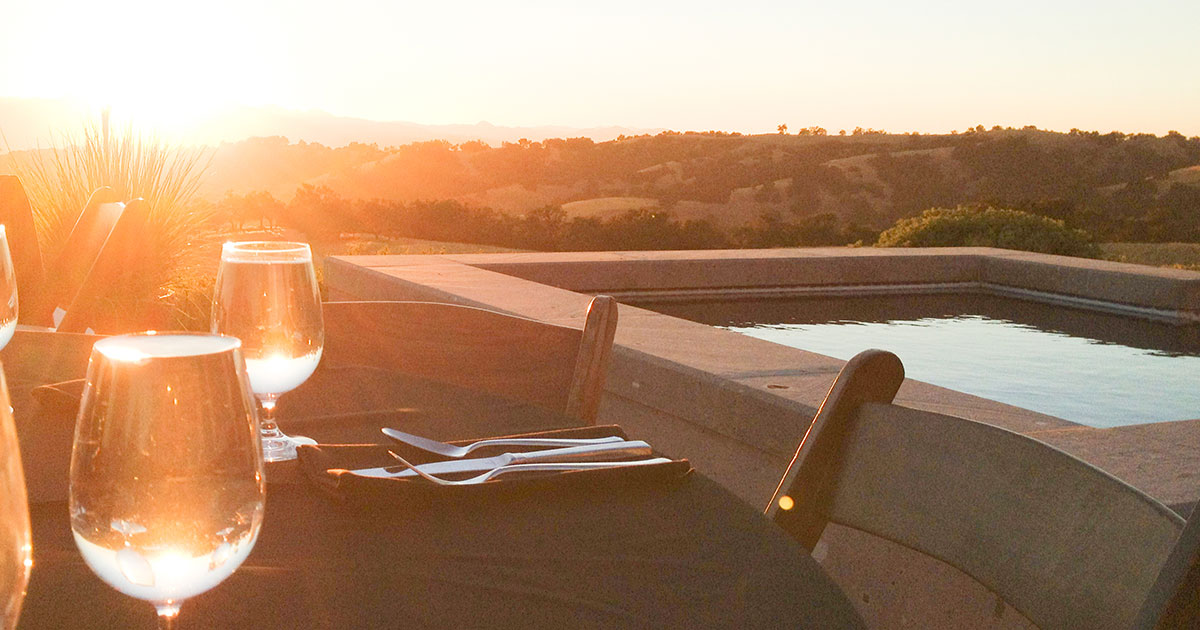 Explore the Best Location for Your Party Spot
In many instances, existing features will guide the answer to this question. A sweeping view of the Paso Robles hills or a mature Atascadero oak tree might perfectly frame a central party space. Flow between doors, gates, and seating areas should be considered, as well as proximity to the kitchen. A broad primary access path with secondary collectors prevents chokepoints during a busy party. Sun and shade patterns, as well as wind and other climatic features will suggest ideal zones for human enjoyment; a blustery wind in Morro Bay suggests a more sheltered party pad. Cloudy Los Osos might suggest a comfortable boulder-studded fire circle. Finally, planting often provides the smooth transition from hardscape into the larger landscape, playing a vital role in defining and elevating a space.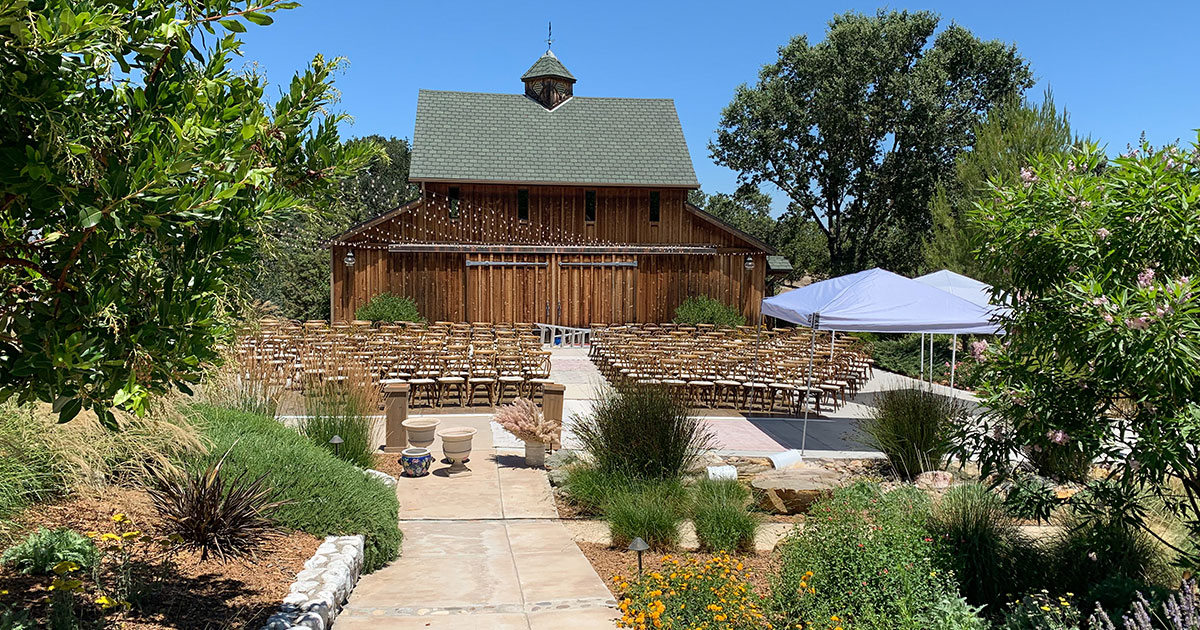 Design for Personalized Flexibility
You want to ensure that your landscape investment allows for all the various parties that you might throw. How can the space morph for different guest lists, different activities, even different seasons? A lawn can offer play for kids, cornhole for adults, or a dining extension for the big celebration. On a sloping site, a low perimeter seat wall might maximize the potential of a patio nook. A central elevated tree planter could provide fast shade, definition of space, and a place to sit. One furnishing can also provide multiple uses on different days: fire pits with hard covers can double as coffee tables or benches when the flame is off.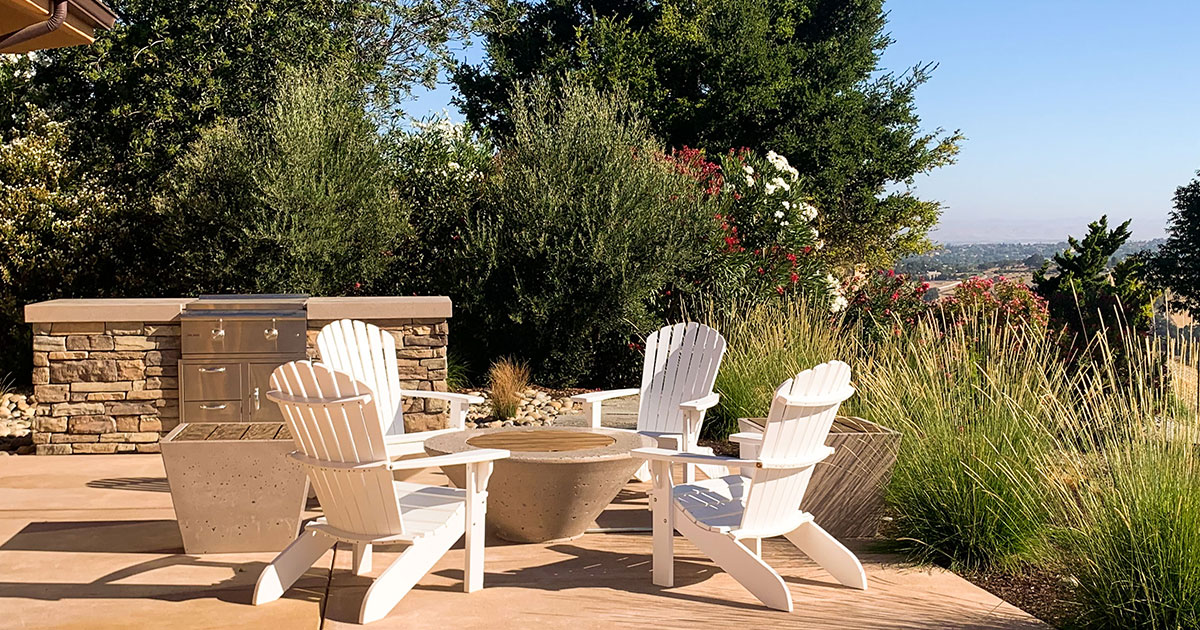 Furnish With Durable and Functional Pieces
Remember, you aren't setting up your space just for the Instagram photos (although that may be a factor). Get tables, chairs, stools, and barbecues that will stand up in our environment—lots of sun, maybe fog or frost and the occasional rain. Near the beach? Consider the effect of salt spray. Up in scorching North County? Plan for some sort of shade. Certain materials and finishes offer greater protection than others. Concrete, stone, and metal are often the most rugged outside in the elements. Pots, pillows, and plant material can provide easy splashes of color in combination with other earthier features.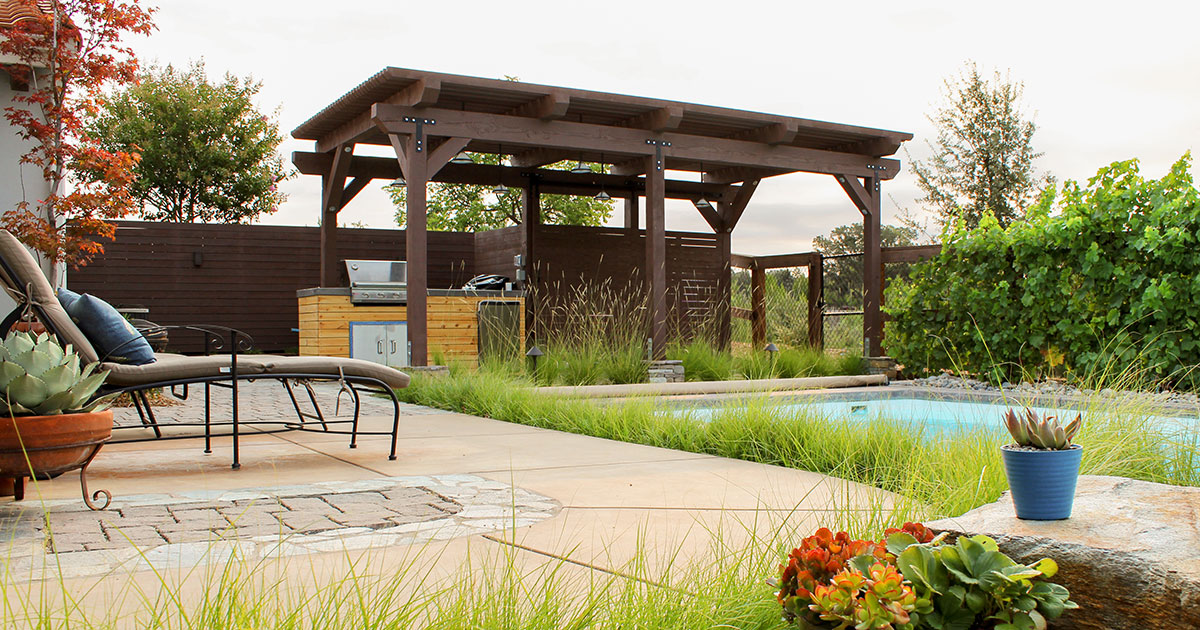 Install Lighting for Function and Safety
Lighting is the hidden gem of an outdoor party space. Since most parties happen later in the day, a beautifully illuminated garden turns a spooky yard into a welcoming room. There are many ways to light a space, and a well-designed lighting plan makes use of multiple types of fixtures. Up lights pointed along the trunks of trees can help define the boundary of a space. Integrated hardscape lights increase safety in stairways and definition along walls and fences. Overhead lights can provide an even glow across patio spaces. String "bistro" lights can provide low but consistent illumination over a large dining space.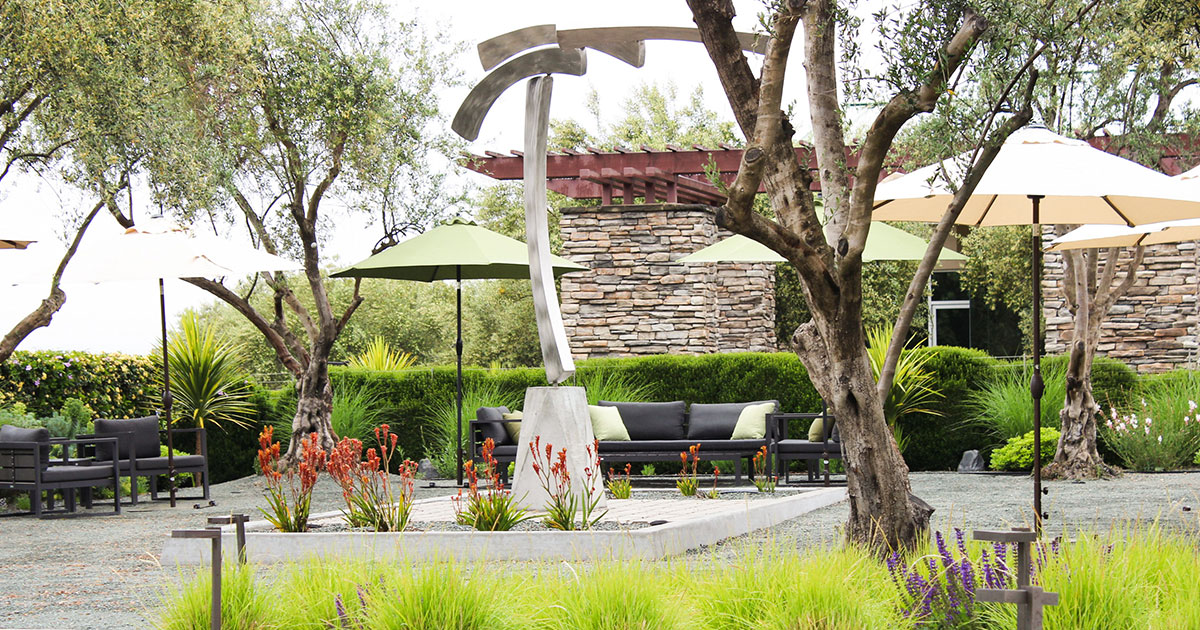 Outdoor spaces are designed, so an exploratory process ensures that any outdoor space is cohesive and fully resolved. Some homeowners begin with a full vision, and that's great! If you don't quite know what you're looking for, that's no problem at all. It simply means taking the time to consider what locations, features, character, furnishings, and elements will work best for the party space you want to have. For complex projects, a professional landscape designer will guide the transformation of inspired ideas into buildable plans on paper. At the same time, parties are all about people, so gather food and friends, make some space outside, and you'll have a great party!
For more information and help with your landscape project, please visit madronelandscape.com.