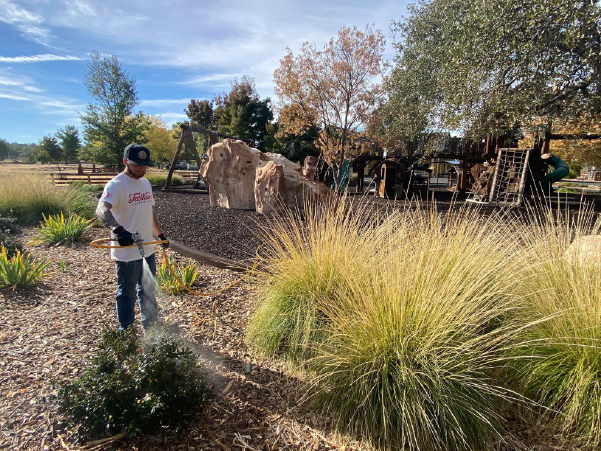 Redefining the Standard of Landscape Care on California's Central Coast
With fall comes cooler temperatures. While some of us may not see frost until later in the year, getting your gardens to bed and landscape in shape for the winter can make all the difference the following spring.
As part of our landscape maintenance services, Madrone Landscape offers a fertilizer and soil-building program called Healthy Gardens to keep your landscape thriving. Members of our maintenance team visit your property in the spring and fall. They will apply organic fertilizer and compost tea and use other methods to restore the nutrients and minerals plants require for lush, uninhibited growth.
The soil food web is the community of organisms living all or part of their lives in the soil. This complex living system interacts with the environment, plants, and animals. It consists in part of bacteria, fungi, protozoa, nematodes, arthropods, and insects. Our goal is to restore the natural processes required to make the organisms available for the plant life they support through organic soil building.
Daniel Mazawa, Madrone's General Manager, is a champion of organic soil building and changing our relationship with vegetation, soil, and water. He sees three objectives to the Healthy Gardens program: lessen the excess use of chemicals, build the soil, and redefine the standard of care. "By replacing chemical fertilizers and herbicides with organic fertilizer and compost tea, we begin the process of bringing the soils back to life," explains Daniel.
Using our exclusive compost tea, specially formulated by Red Frog Compost Teas, we reinvigorate the soil with living organisms that nature has set into place to manage healthy soils. The micro-organisms leach toxins from the soil, break down soil compaction, and process organic matter. This method creates more porous soil, which is optimal for root growth and water storage. It also frees up bound minerals and nutrients that are otherwise unavailable for root uptake and helps prevent the invasion of pests and disease.
Actively aerating the soil or turf area of your property improves the texture of the soil and its ability to breathe. Core aeration is a mechanical process that removes plugs or cores of soil and grass to increase deep water penetration and open root zones to oxygen.
The application of organic fertilizer is another key service of our Healthy Gardens program. While compost tea is a brew of microbiology that increases the decomposers in the soil, this granular fertilizer introduces nitrogen and other nutrients to rebuild soil nutrition and the microbial community. The nutrients applied are more readily available to the plants without leaching harmful synthetic chemicals into our watersheds.
Madrone's combination of organic soil building methods ensures the establishment of a thriving soil food web and, in turn, a healthy garden. Reach out and learn more about how Healthy Gardens can be added to Weekly or Garden Detail maintenance programs. Contact us at [email protected] or (805) 466-6263.