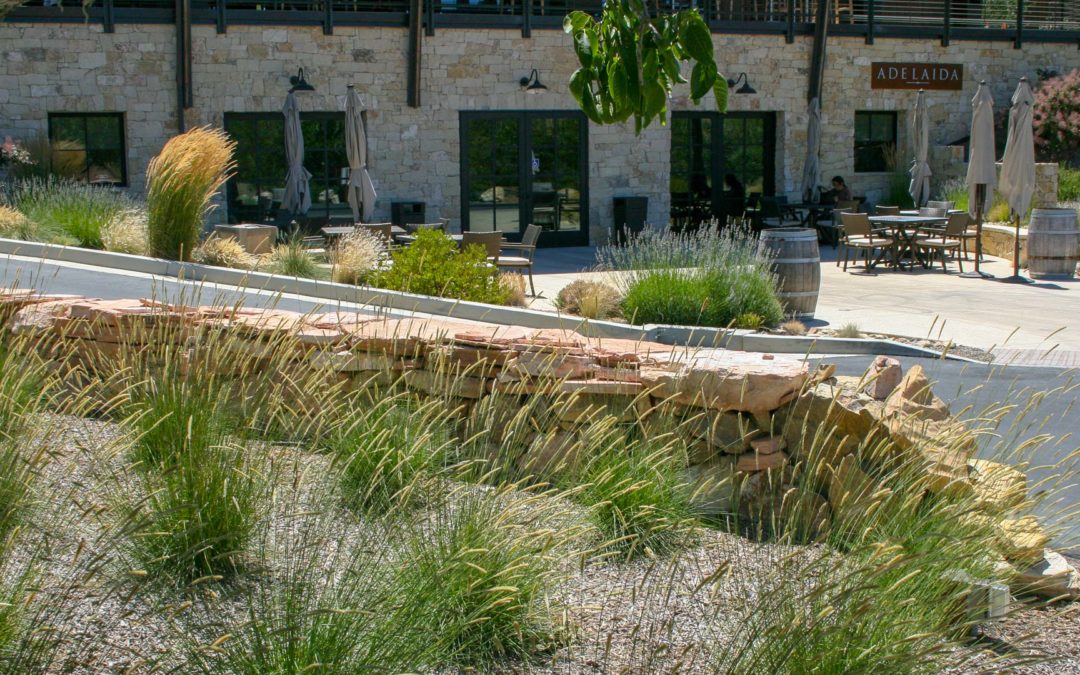 Wineries on the California Central Coast have had their share of curveballs dealing with the coronavirus pandemic, but some have been well-suited to adapt to changing times. The tasting room experience could be considered even more valuable today for its ability to give visitors a relaxed, open-air experience as a respite from the headlines. As a follow up to our 2018 article Five Landscape Design Tips for California Central Coast Tasting Rooms we caught up with two notable winery leaders to see how the landscapes were faring in the pandemic.
In spring of 2020, all wineries were forced to halt in-person tastings for 10 weeks. When wineries could reopen, they were limited to providing tastings in outdoor spaces by and with proper social distancing. June McIvor of Tolosa Winery said they had to reduce their outside capacity somewhat to accommodate distancing requirements and they began offering online reservations in addition to the phone and email reservations they had already been encouraging. The winery shifted lounge spaces to tables and spread them out for proper spacings and reduced maximum group size. The variety of patio spaces and strategically located small planters provided the flexibility to adapt their space and fit people.
June reports the winery is welcoming many new guests from population hubs in Northern and Southern California who are traveling by car to vacation on the Central Coast. Locals and visitors alike are "looking for normalcy" and she feels that the relaxed atmosphere of tasting wine in a beautiful garden patio is greatly appreciated. She remarks, "We are grateful we renovated," and because of thoughtful pre-pandemic design they are well-positioned to adapt to pandemic constraints.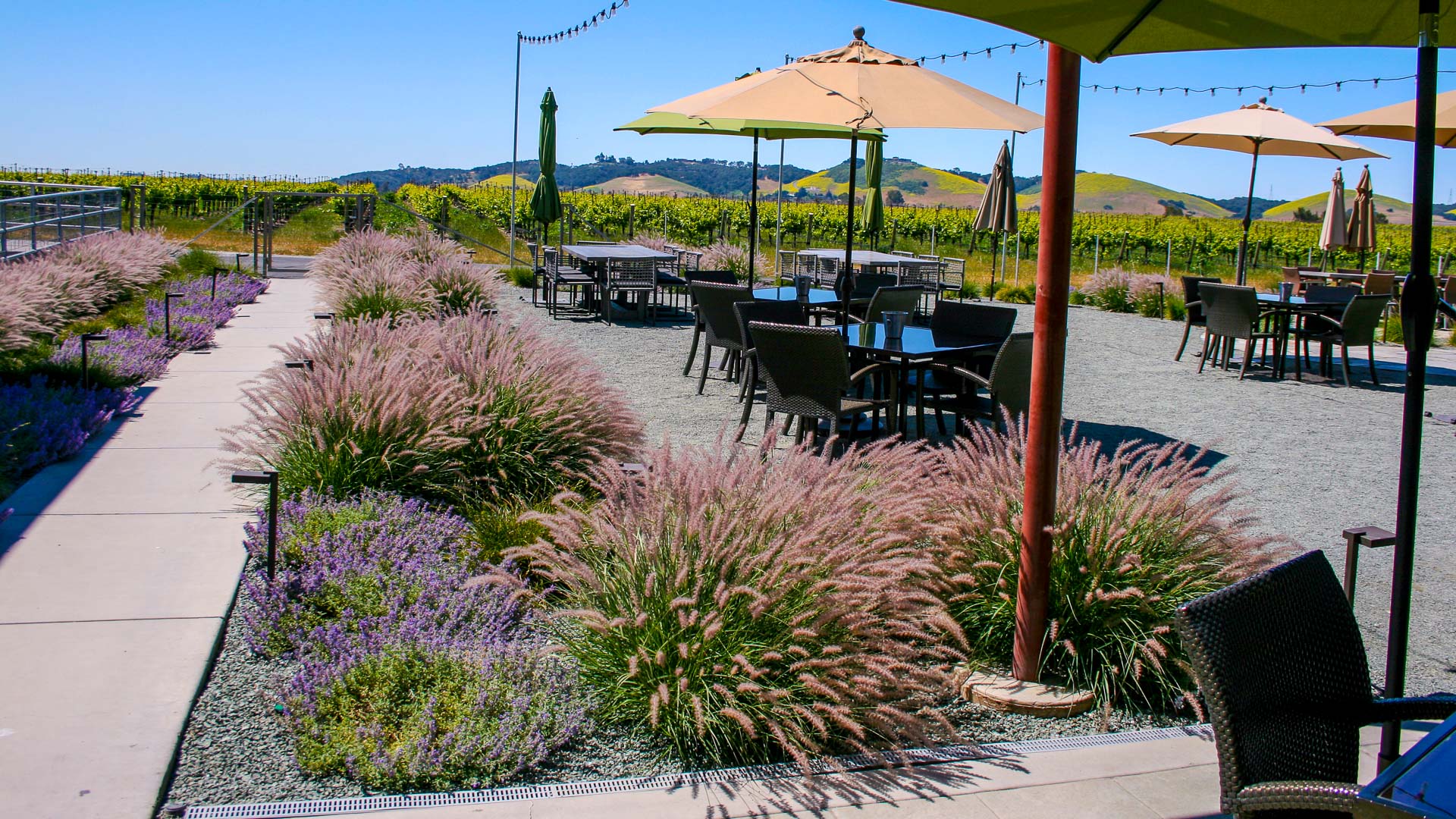 Damian Grindley of Brecon Estate also had to rethink the outdoor table layout for tastings and reservations and has seen similar success. Surprisingly, he had considered moving to reservations-only prior to COVID-19. The requirement forced Brecon Estate into a reservation system early but with little pushback. He correlates reservations with better customer satisfaction because of a more controllable experience with adequate staffing to the reservation load. Satisfied customers will buy more wine.
The "relaxed Central Coast" vibe of Brecon Estate draws in locals and visitors with the goal of making customers feel welcome and comfortable. As far as the winery renovation and landscape built in the last six years, he says, "we almost could not have designed it better." The comfortable outdoor spaces and detached outdoor restroom building worked out particularly well for COVID-19 restrictions.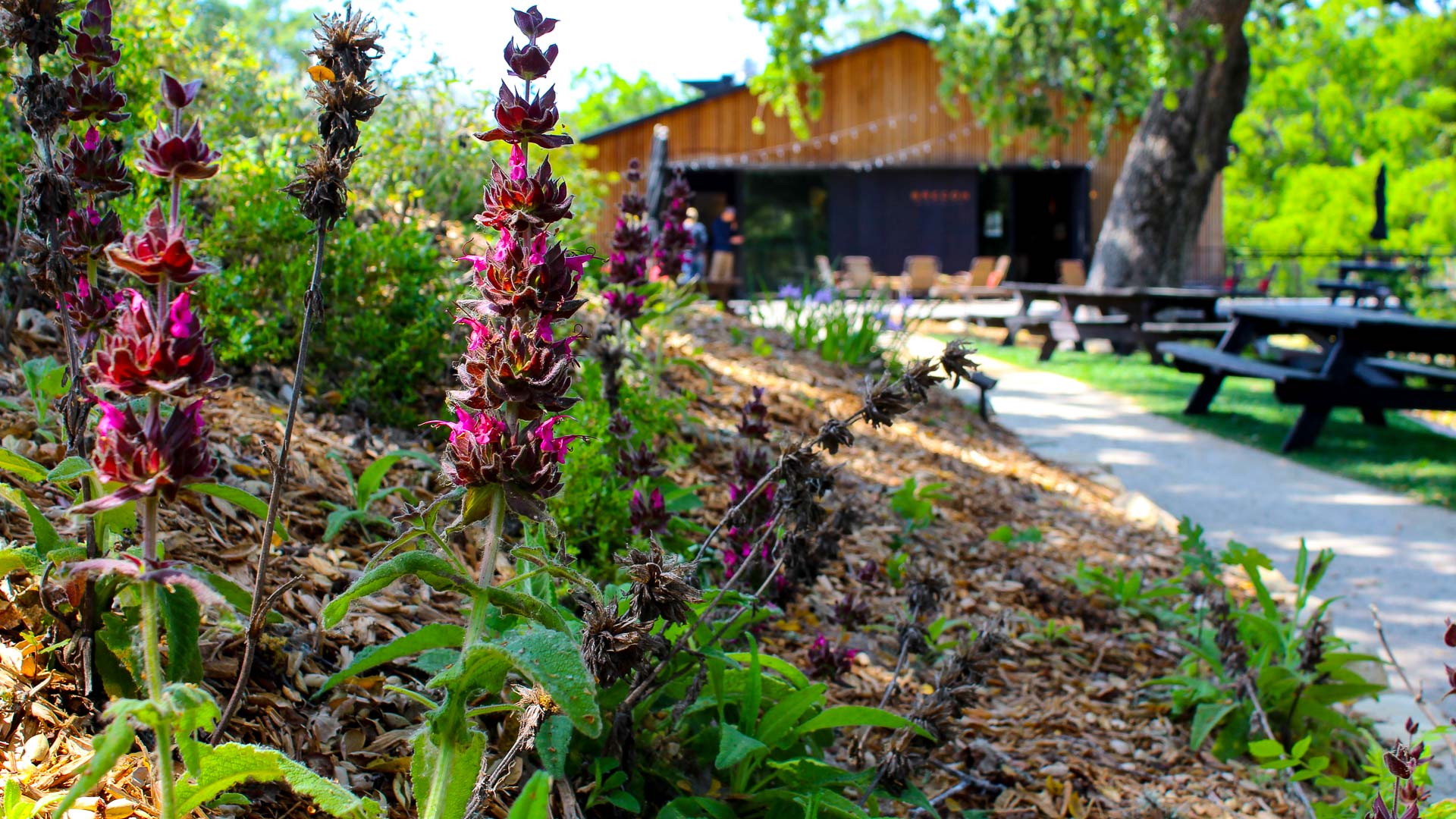 With the respite wineries provide, demand for outdoor tasting room space will continue into the winter. Tolosa Winery has extended their outdoor tasting room season using tents for weather protection. Brecon has room for tents but is considering alternative layouts for patio design with tents in mind. A couple of feet one way or the other can make the difference for a great fit.
With outdoor tasting areas at a premium, savvy wineries will put thought into providing comfortable usable spaces for winter weather.
Here are five tips for wineries that are thinking of renovating their tasting room landscapes to accommodate customers looking for a great experience.