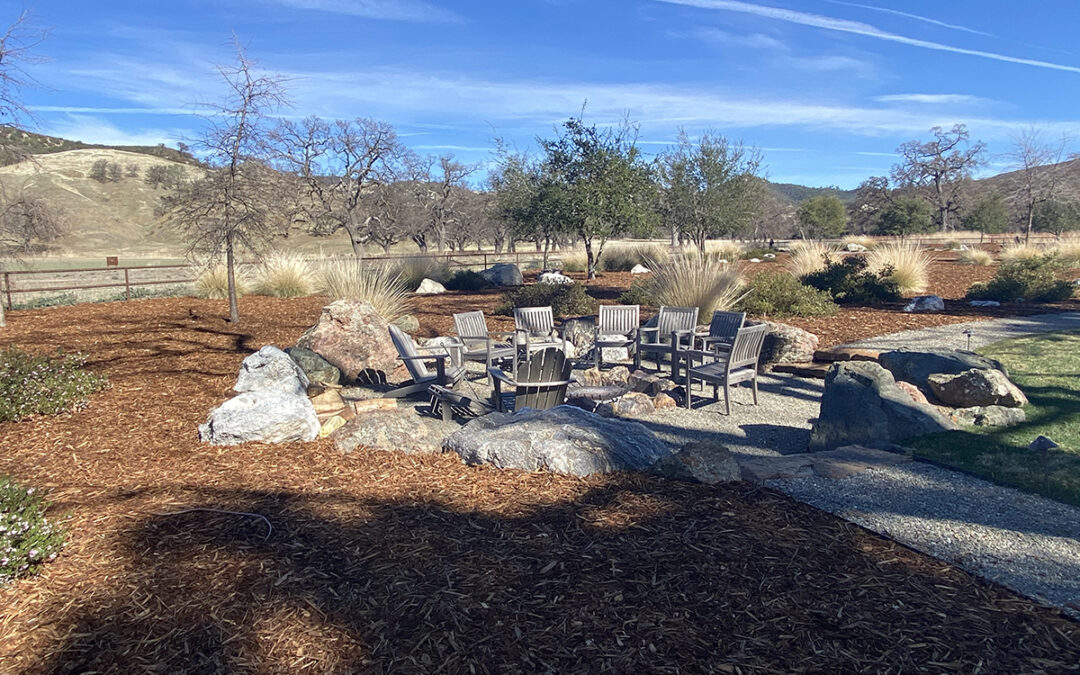 Key Benefits, Types, and Methods of Using Mulch in California Landscapes
It's almost insane how many ways mulching adds to the success of California landscapes. It is easily one of the most useful practices one can do in the garden. Mulching is a great way to control weeds, retain moisture and protect your soil. It also hides and protects drip lines, keeps dust down, provides a safe, relatively clean walking surface, and looks better than bare ground. Mulches can prevent erosion on slopes, and organic mulches improve soil structure.
Saves Time and Money
One of the most important benefits of mulching is it saves time and money! By reducing weeds, especially annuals, by up to 90%, landscaping labor costs are reduced significantly. Mulching can reduce or even eliminate the need for costly and toxic herbicides. And mulch can significantly conserve soil moisture, reducing the cost of irrigation. Many California Coast gardens use surface-mounted drip irrigation and mulching serves to visually cover up and protect drip lines, which are vulnerable to damage and weathering, thus saving on costs to repair or replace.
Promotes Healthy Landscapes
Mulching promotes healthy plants and garden areas by reducing competition from weeds by preventing their germination. The decomposition of mulch also adds nutrients to the soil as it breaks down, improving soil by adding organic matter that feeds beneficial organisms. Mulching reduces soil compaction and insulates plants against temperature extremes. A 2-inch mulch layer can cut summer soil evaporation by 20% and lower temperatures in the top 4 inches of soil by 10 degrees. There is a notable improvement in establishing young plants and trees when mulch is used.
Reduces Soil Erosion
Another benefit of mulch is how it reduces soil erosion. Covering the soil simply helps keep soil in place when exposed to rain and wind. This is especially true on slopes, by deflecting the impact of raindrops, which in turn reduces stormwater runoff and creek erosion.
It Just Looks Good
Mulch is often the finishing touch for planting areas. In addition to the functional benefits, it just looks good! A clean, uniform mulch layer helps to really tie the garden together.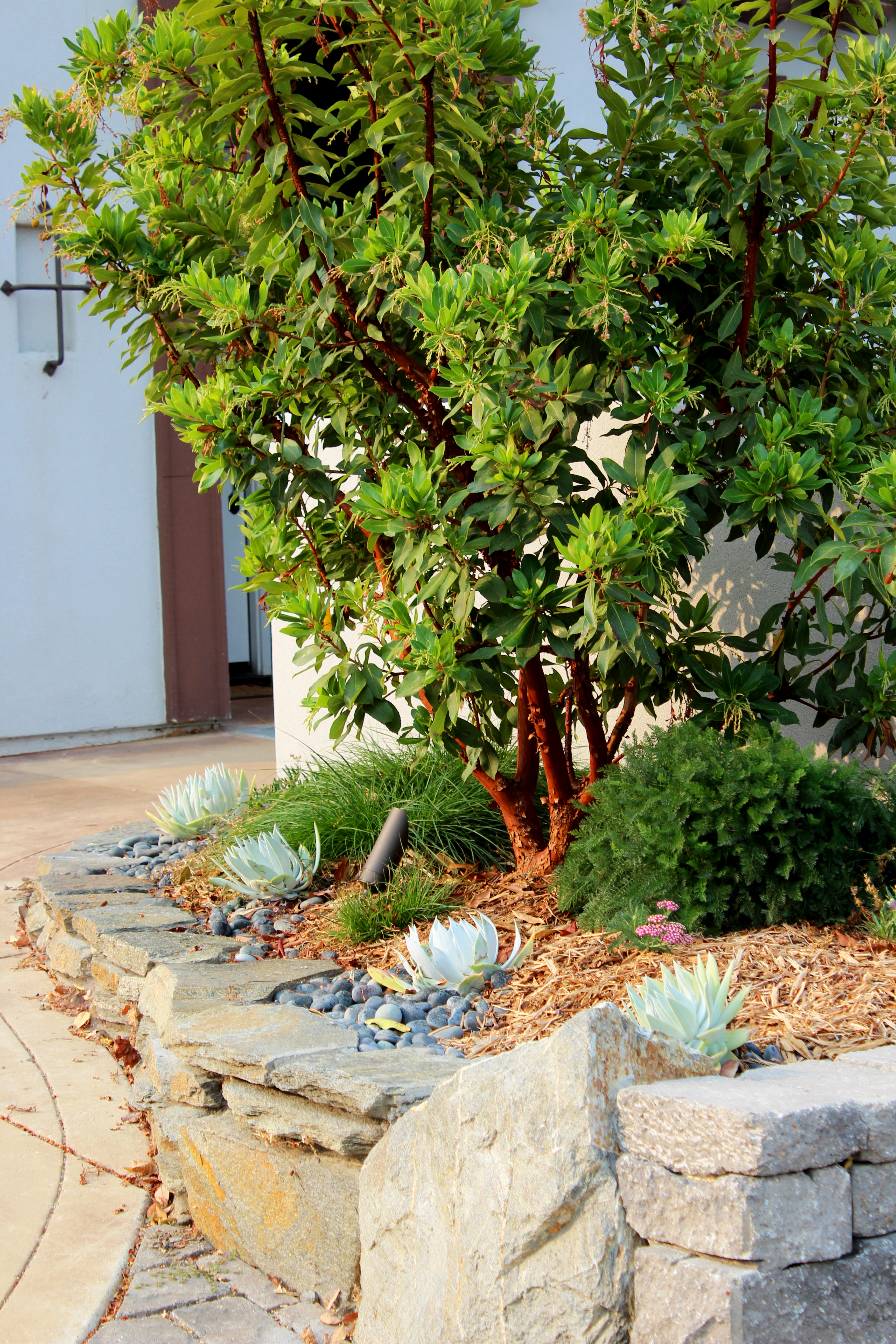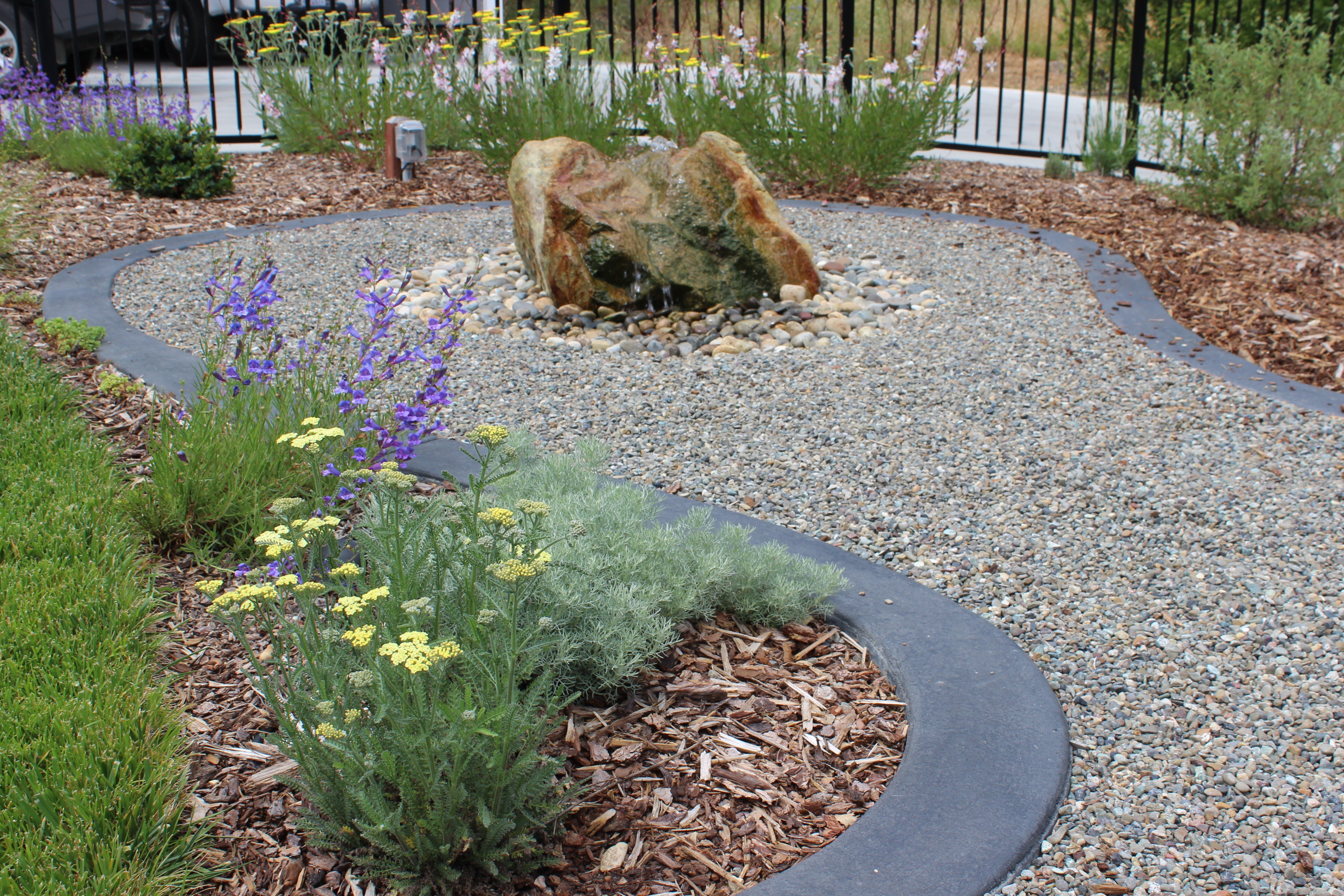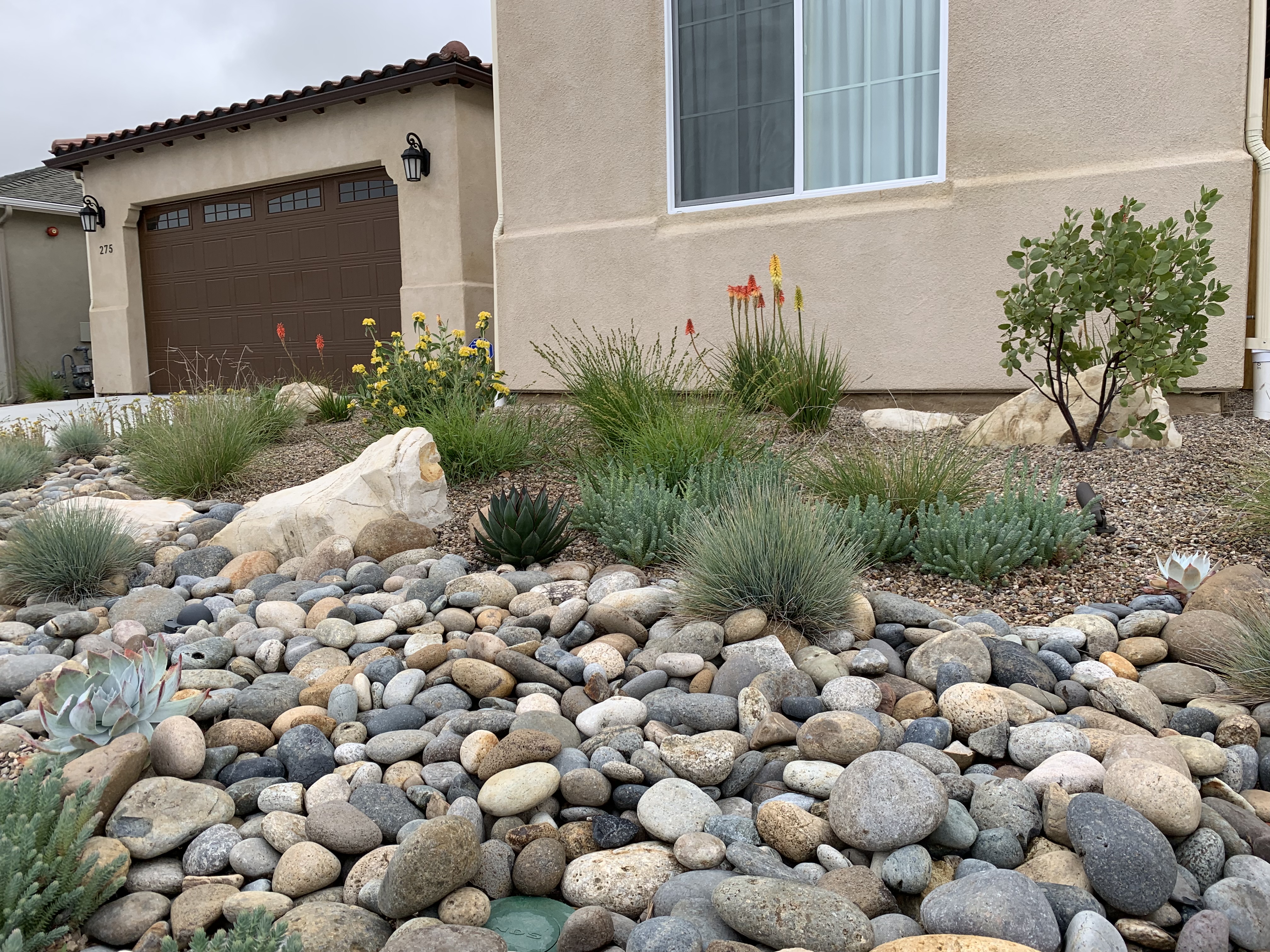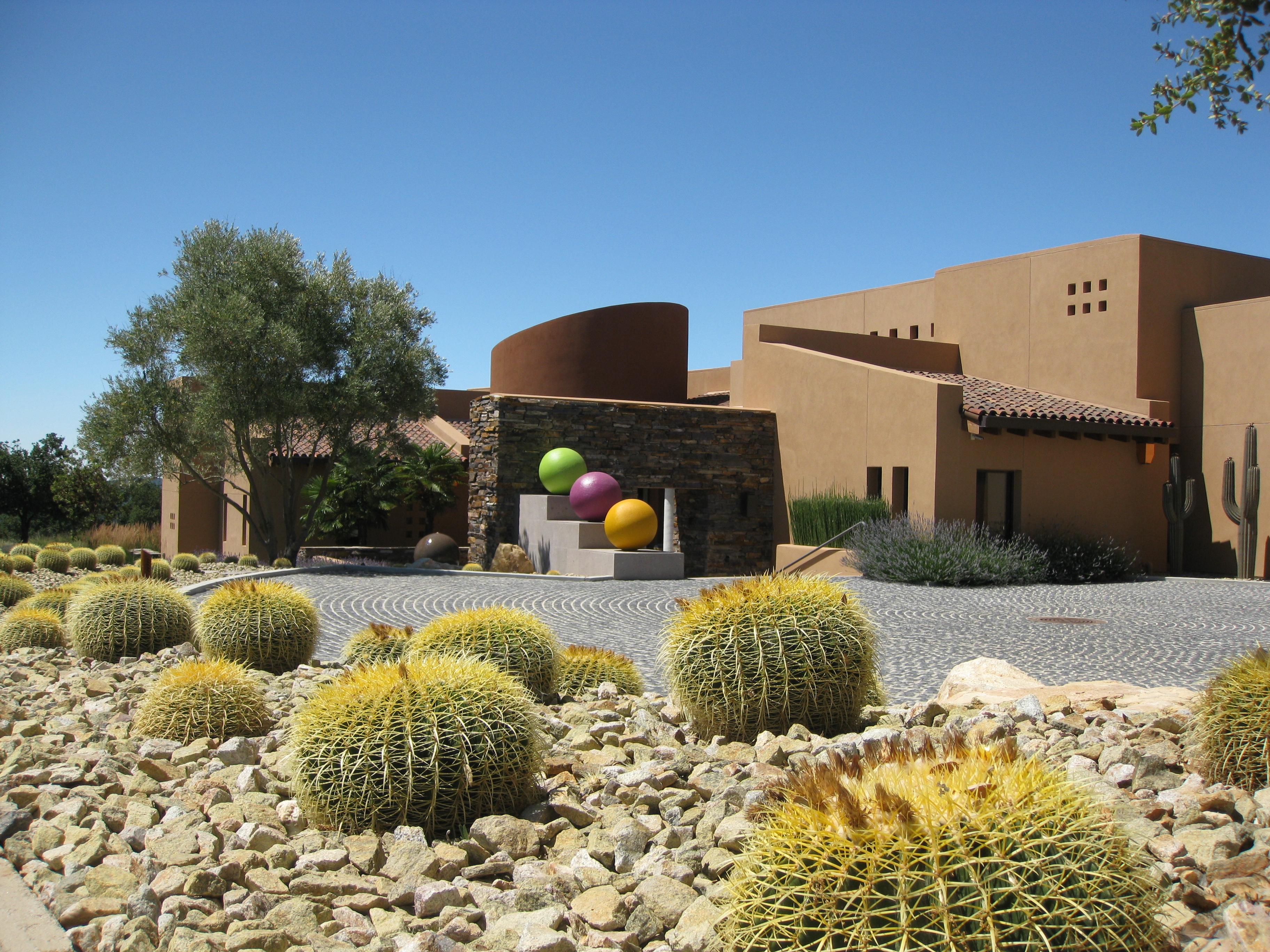 Mulching with a Multitude of Materials
There are a wide variety of materials that can be used for mulching. The style and design of your individual garden or landscape will inform as to which types might be best for you. Bark and wood products are the most common types of mulches on the Central Coast. But there are many others, such as stone – from colorful rocks and boulders down to a wide variety of gravel and even decomposed granite. An under-layer of sheet mulching can be employed using newspapers, cardboard and even plastic sheeting. Living mulches (e.g. Dutch white clover) are cover crops planted around crops or between crop rows, adding nitrogen to the soil while discouraging noxious weeds.
We want to call attention to Recycled Organic Mulches. These can include chipped or shredded wood chips, compost, simple fallen leaves or pine needles, or even grass clippings. We also favor chipper mulch from local tree trimming operations. Our endorsement of these recycled materials stems from the fact that these materials are not only potentially an attractive ground cover and mulch, but they are by-products that don't have to be shipped long distances, and mulching with them contributes to maintaining their usefulness in another form (good for sustainability).
Consider Flammability
With all the benefits of mulching, also comes an issue of organic mulch's combustibility and wildfire safety. In areas of many California communities, there is a real need to consider how to reduce hazardous conditions, and how mulching can play a useful role and not contribute to wildfire danger.
An in-depth study conducted at the University of Nevada Cooperative Extension of landscape mulch types analyzed their relative combustibility, flame height, rate of spread, and temperatures. They demonstrated a wide range of variability in mulch type combustibility, suggesting the need to consider flammability when choosing mulches. In general, it is obvious that the least flammable mulch types should be used closest to vulnerable homes and structures, and the study recommends "not using any organic mulch within five feet of a house located in wildfire-prone areas."
How Much Mulch?
Planting areas should be mulched as needed to maintain a 2- to 4-inch layer. Plan on refreshing your mulched areas periodically. An annual inspection usually keeps you apprised of how often additional mulching is needed. Keep mulch at least two to three inches away from the stems and trunks of plants to avoid moisture-related fungus and bacteria problems. When mulching individual trees planted in lawns, create a circle of mulch about 2 feet in diameter for each inch of trunk diameter, even out to the edge of the canopy of mature trees if possible. If irrigating mulched areas with overhead irrigation, make sure that the water penetrates the mulch layer. Mulch can absorb the water and prevent its ever reaching soil.
We Love Mulch!
Mulching covers and cools the soil, conserves moisture, suppresses weed growth, slows erosion and adds nutrients as it decomposes. It also hides and protects drip lines. Plus, it looks good. What's not to love?