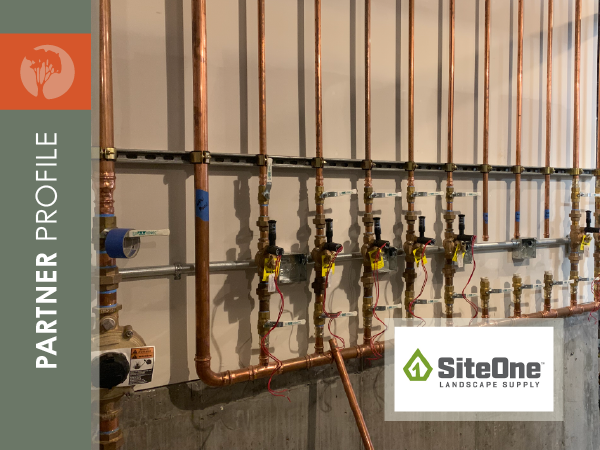 This is a state-of-the-art irrigation valve manifold installation for Hotel SLO to supply irrigation for planters on 5 levels from ground level to balconies to roof.
Evan Moffitt, CLT, CLIA, PCA, at SiteOne Landscape Supply, has been working with Madrone for over four years, delivering everything from irrigation and pavers to lighting. Evan and SiteOne are reliable partners for anything we might need for our landscapes, assisting us on over one hundred projects for varying clients and spaces.
SiteOne offers a comprehensive selection of top-brand landscape supplies, from irrigation to lighting, throughout North America. "We carry nearly everything Madrone would need, so it's about getting what they want," said Evan. After so long working together, we know exactly how they deliver, and they know what we order. Being able to count on their services has come as a huge boon time and time again.
When it comes to philosophies we share, we both work hard to deliver our services on time, valuing urgency and good communication when it comes to others' time and work. "We understand each other very well," said Moffitt. "They have a great team culture. A lot of people there work well together, they have a great support and management team to get the projects done, and they communicate well."
While SiteOne doesn't always have the opportunity to get out to the site and see the results of their reliable supply, we know our work benefits majorly from their ethics and consistency. We're grateful for the many years we've worked together to develop landscapes of which we're proud.